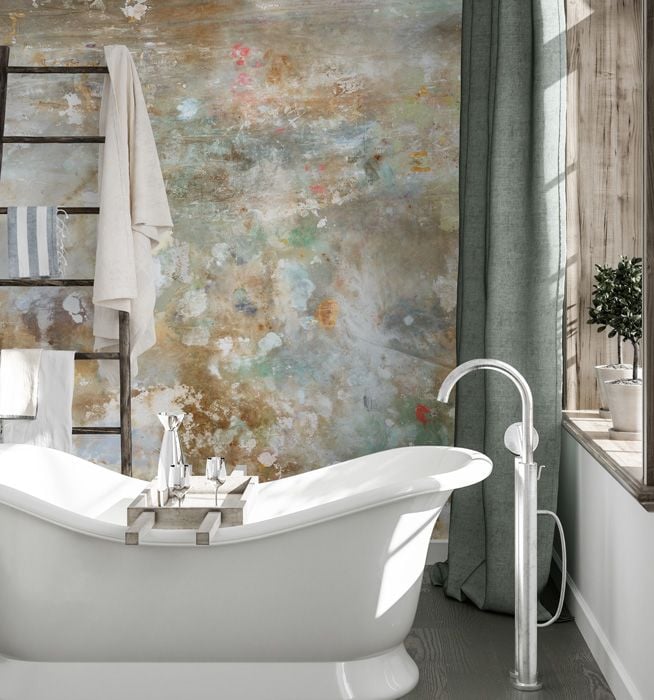 Cushions that add light to darkness
Brighten up a dark wall with textured pale cushions that balance out a deep colour like this stunning moody wall. The delicate pinks and marbled effect cushions add a feminine edge to the bold coloured wall behind the bed. Our X-Ray Orchid and X-Ray Rose cushions would complement this bedroom perfectly.
High contrast cushions
Monochrome cushions that contrast to the rest of your bedroom stand out as soon as you enter the room. Match your cushions with a statement accessory like a lamp for extra impact.
Mix & match cushions
Cushions in various shapes, sizes, colours and textures add interest to a room. Scatter cushions pack more punch when made in colours that pull in different shades from around the bedroom, as seen with this round bed pictured.
Complementary cushions 
If stacks of cushions are your thing, a limited colour palette won't overwhelm a bedroom. This moroccan themed contemporary bedroom at first glance seems like there's a lot going on. On closer inspection – all the cushions and accessories are in shades of blue, brown, grey or cream. The perfect way to create harmony from what could so easily have been chaos.
Cushions with subtle texture
Add interest with textured cushions in a similar or the same colour as your bedding. Against a dramatic backdrop like the one pictured, a minimalist white bed leaves all eyes on the wall. Soft grey cushions in a satin finish give a nod to the shiny surface of the metallic wall, yet don't distract from the main focal point.
Pile 'em high
Velvet cushions were made to make a statement – and should be displayed with pride. Piled cushions add personality to a bedroom and stop this luxury bedroom from feeling too overdone. Our Oh La La Cushions in Sand + Blue would look amazing piled like this.
Co-ordinate cushions with wallpaper
Use decorative cushions to enhance the design of a unique wallpaper in your bedroom. The beautiful velvet cushions in the luxury bedroom pictured highlight the woodland wallpaper behind the bed. Try this look at home with our English Rose Cushion and matching English Rose Wallpaper in Forest.
image: hamptonmanor.com
Same theme, different designs
Floral cushions can be tricky to match with bedroom decor, but mixing and matching designs is a modern way to add some femininity to your room. Stacked in order of largest to smallest, this cute combination of pillows and cushions is a novel way to clash your prints in style.
Pick a theme
Decorate your bedroom in one theme that ties everything together, as seen in this beautiful Scandinavian bedroom. The soft pink and grey cushions and bedding bring together the nordic collage-style artwork on the wall and the stacking boxes at the side of the bed, and the the low hanging gold bulb adds a little glamour to the understated room.
Add a little colour
If you prefer a pared-back colour scheme in your room, a pair of cushions in a contrasting colour will liven up your bedroom. It helps when you have a jungle outside your bedroom window of course, like the owner of this bedroom pictured.
Discover more of our range of artist-made designer wallpaper, luxury fabrics & contemporary cushions.
Scatter Cushions /// 10 Inspiring ways to style scatter cushions in your home