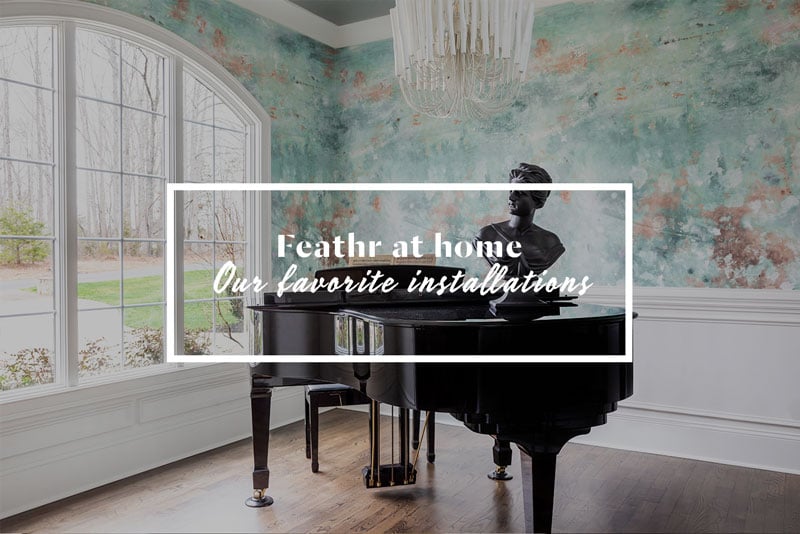 Nothing makes Team Feathr feel happier than seeing our work in a finished room .  Our days at Feathr HQ are spent carefully creating and curating wallpaper designs to suit your myriad of style ideas . We create wallpaper, print wallpaper, we drink lots of coffee, and then off our wallpapers rolls go to different corners of the world. We love seeing where our wallpaper gets hung! We adore the different styling ideas and colour schemes that are dreamt up by you all.
Presenting our favourite installations – here's what happens when your creative juices get flowing….
>> See more Plato wallpaper images
Wham, bam, GLAM! This stunning look is the work of interior design power duo Nikki Hunt and Andrea Savage of Design Intervention.
They have beautifully designed this space using our abstract Plato wallpaper design. The green brush strokes,  originally hand-painted by Japanese artist, Aoi Yoshizawa give a bold and contemporary feel to the room.
The clever metallic touches in the fixtures add another dimension.  Then combine that with the reflective qualities of the geometric mirrors and dramatic chandelier and you have maximum impact. A real show stopper!
Photography – Design Intervention
Instagram – @ourdesignintervention
>> See more Oh La La wallpaper images
We sooo have room envy! Every house should have grand piano of course but if you don't have quite the room you could still incorporate elements of the look created by the talented Nancy Parrish. We love how the picture window bathes the room in light (look at the reflection off the piano!), we love the dramatic chandelier that floats delicately overhead .  And we love LOVE our shabby chic Oh La La wall mural with it's soft pastel colours. This design was created for us by American abstract artist Kiki Slaughter using a paint layering technique to give us the wonderful depth of colour.  Shabby but oh so chic!
Photography: Laura Sumrack – @laurasumrak
Instagram: @nancyparrishinteriors
>> See more English Rose images
Do we want to pull up a stool and order a drink at this gorgeous bar.  Yes please! This oh so enticing space was dreamed up by the talented team at Decor Buddi.  They show us that you should never be afraid to use a bold colour.  The deep blue of our beautiful abstract flower 'English Rose' wallpaper is complemented by lighter shades of blue green tones around the room. The fab metallic touches of the light fittings and rose gold Champagne flutes catch the light perfectly. Bartender, make mine a double!
Photography: James Paxton of KT1 photography
Instagram: @decorbuddi
>> See more First Bloom wall mural images
This is just dreamy.  We are blown away by the tranquil vibe of this bedroom created by interior designer Helena Brana . She has created this feel using our subtle watercolour mural 'First Bloom' in grey by artist Stacy Solodkin.  The soft monochrome colour palette of the wall mural creates the perfect zen contrast to the darker tones elsewhere. Added to this is the gentle draping of soft tulle around the angular bedframe to soften the whole look. We have total bedroom envy. A good night sleep guaranteed!
Instagram @brana_designs
>> See more Plato fabric images
How's this for a different angle – taking the drama off the walls and onto the fabric! Featuring another stunning project from the talented  Design Intervention team – they have created this stunning bedroom look around our Plato fabric originally hand-painted by Japanese artist, Aoi Yoshizawa.
Gracing the curtains, bedframe and dressing room chair our Plato fabric captures the drama of an artist at work – the fine detailing retains the movement of the brush and grain of the paint. The custom color ochre shade we created for their look blends seamlessly with soft pastel colour palette.  And we think their clever use of different textures to bring an extra playful dimension to the room. The end result is just fabulous!
>> See more Dreamboat wallpaper images
We are loving the space and feel created by Melanie Morris Interiors.  With the backdrop of our shabby chic 'Dreamboat' wallpaper, this sitting room feels calm –  truly a space to unwind in.  This wallpaper design was created for us by abstract artist Kiki Slaughter with her classic layering and scraping watercolour effect. Adding that colour palette to the neutral tones of the soft fittings and a touch of foliage on top of the stunning table helps create that fab 'outdoor indoor' feel. And reeeeeeeeelax!
Photographer: Marco Ricca
Instagram: @melaniemorrisinteriors
>> See more Oh La La wallpaper images
If you are going to get  an eyebrow shaping – you might as well do it in beautiful surroundings!  Makeup artist and eyebrow expert Millie Herd's studio is so glamorous.  We think her choice of our shabby chic wallpaper is a perfect style fit . With its unique organic and textural nature,  our Oh La La wallpaper gives a background depth brimming with natural tones.  We love the styling with the bold  light fitting . Add in a little drama with the navy sofa and distressed rug to draw everything together perfectly. Makeover success!
Interior Designer: GSiD/Georgie Shepherd
Instagram: @millieherd
>> See more English Rose Wallpaper images
Australian couple Alexandra and Mitch  are the dream team behind @FrenchVinesAndDesigns.  Having bought their petit chateau  dating from the 1830's in the Loire Valley, France they are busy converting it in a non-traditional style. We love their choice of our beautiful abstract flower 'English Rose' wallpaper to give their bedroom a soft green tint.  This gorgeous wallpaper was created for Feathr by Finnish artist Reeta Ek who views her work as not just decoration, but art. We just love their choice of soft tones, combined with the elegant coving all dappled in the French sunlight . So chateau chic!
Photography : French Vines and Designs
Instagram: @frenchvinesanddesigns
>> See more Persecution wallpaper images
You know that moment when a contrasting mix of patterns creates 'that' magic?  Well here it is! This gorgeous bathroom is the brainchild of interior design aficionado  Liz Engelsen (aka Liz Nylon).  Liz's design ethos? Mashing up period features with contrasting artwork and modern sassy furniture. We just love her use of 'Persecution' – our uber cool tropical jungle wallpaper mixed up with contrasting  geometric tile and sink unit combo.
She herself is a bit of a 'mash up' herself  – a native New Yorker, who lived in London, fell in love with a Scotsman and now lives in Edinburgh. All those different influences come together and make that magic happen.
Photography: Liz Nylon
Instagram: @liznylon
>> See more Great Bear, Little Lion wall mural images
What's as good as seeing your name up in lights?  Your name on your bedroom wall of course! We love this nursery created by Helen @insidenumbersixteen.  As if life wasn't busy enough raising young kids, she has pulled off the most stunning Georgian inspired self build.  Her focus is now on decorating the bedroom for the littlest member of the family.  We loved creating this cream coloured starry night wall mural dedicated to the little man himself. He can now lie in bed, starry eyed,  surrounded by the most famous constellations.  Sleep tight Lucas!
Instagram: @insidenumbersixteen
>> See more Swan blue wall mural images
A French fancy! Caroline is the talented creator of this gorgeous room.  A native American who came to France in 2006 and simply never went back home.  She is truly artistic in her professional life – both a classical soprano singer and photographer.  This creative flair is now being channeled into the renovation of her beautiful rustic building. She has installed our romantic Swan toile de jouy wallpaper mural which contrasts just perfectly with the exposed stone and woodwork. The natural tones are the perfect foil for the delicate blue of the mural. Bravo, c'est magnifique !
Photography: Caroline Elizabeth Wyatt
Instagram: @medocschoolhouse
>> See more Oh La La wallpaper images
How's this for a welcome back home look! Here's our Oh La La wallpaper in a different setting – as a hallway feature wall.  This gorgeous space was dreamt up and designed by Jemma Harrison.  We think the colour scheme is just perfect – the soothing natural shades of the wallpaper, wooden parquet floor and stair carpet sit perfectly with the dramatic deep shade paint. Add in some carefully chosen furniture and accessories to tie the room together and voila, it's a win !
Photographer:  Jemma Harrison
Instagram:  @fikaandmooch
So now we have a lovely warm fuzzy glow looking at how our wallpapers and your hard work and vision have come together to make such unique and beautiful spaces.  Well done Team Feathr – we are loving your work!
If you're inspired – now shop our designer wallpaper collections.