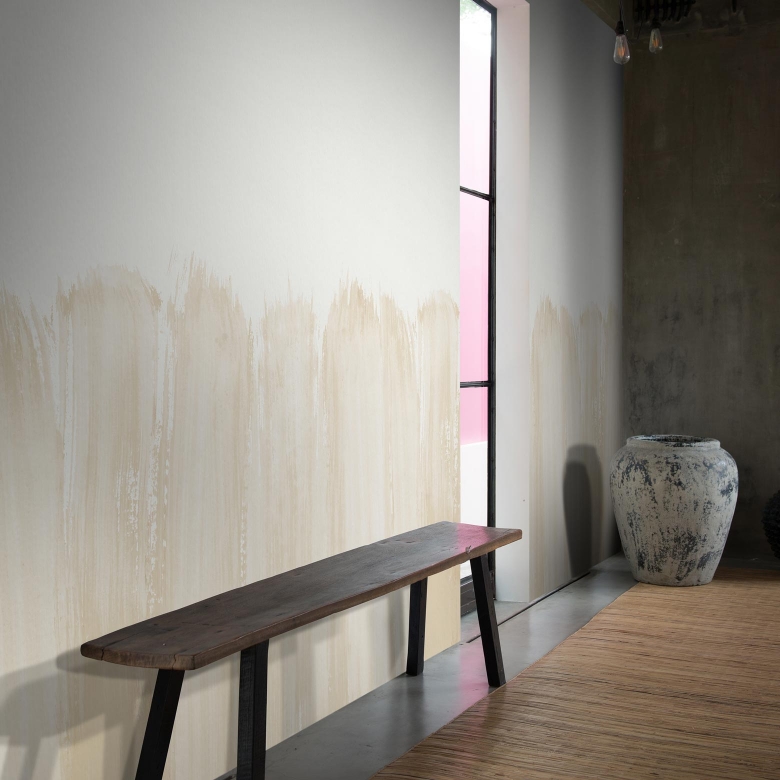 Paint effects are making a splash in interiors. Abstract murals, solid stripes and half-painted rooms can instantly transform a room (if you're handy with a paintbrush). Check out our round-up of 8 ways to get creative with paint – and how to get the look with FEATHR – no artistic skills required.
Bold brushwork
If you're handy with a paintbrush, experimenting with long, expressive strokes will add drama to a room and freshen up a space. 2 lovely gays' living room is a great example of this modern paint effect, but you can also get the look in an instant with our Vigor Wallpaper.
image source: 2 lovely gays
Ombré
Faded up or down, an ombré effect wall is pretty versatile intoduction to paint effects – it highlights an accent colour without overwhelming a small space. DIY novices beware – an expert gradient can be tricky to achieve.
Want gradient-style walls without the fuss? Reeta Ek's Misty Beach wallpaper is all you need.
Twice as nice
Can't decide whether to paint your room pink or grey? Paint it both! This effect works well with two contrasting colours that will balance a room.
Chevron stripes
Take a leaf from 2 Lovely Gays and create your own chevron-effect walllpaper. Precision is key! If you love the striped effect but don't trust your masking tape prowess, check out our range of striped wallpaper.
​
Immerse yourself in nature
This green woodland scene is perfect for those homes with not so many windows, and the expressionistic style of the mural has a slightly dreamlike quality.
Make a splash
Choose one colour as your focus and experiment with brush strokes and application techniques, in similar or complementary hues. Or, leave it to the pro with Aoi Yoshizawa's Plato wallpaper. All you need to do is hang the wallpaper, step back and admire.
Sunset scenery
If you don't have a view of an open horizon, basking in the soft glow of a sunset each evening, you don't have to miss out – why not make your own? Minimalist, Scandinavian style furniture works well to maximise the effect of the wall here.
Bold and beautiful
Kiki Slaughter's Oh La La wallpaper and wall murals are an effortless way to enjoy painterly style in your own home – minus any stress about your own artistic limitations. The textures of the paint and the harmony in the colour palettes are a perfect example of abstract expressionism at its most beautiful.
Discover our full range of wallpaper, fabric and cushions.