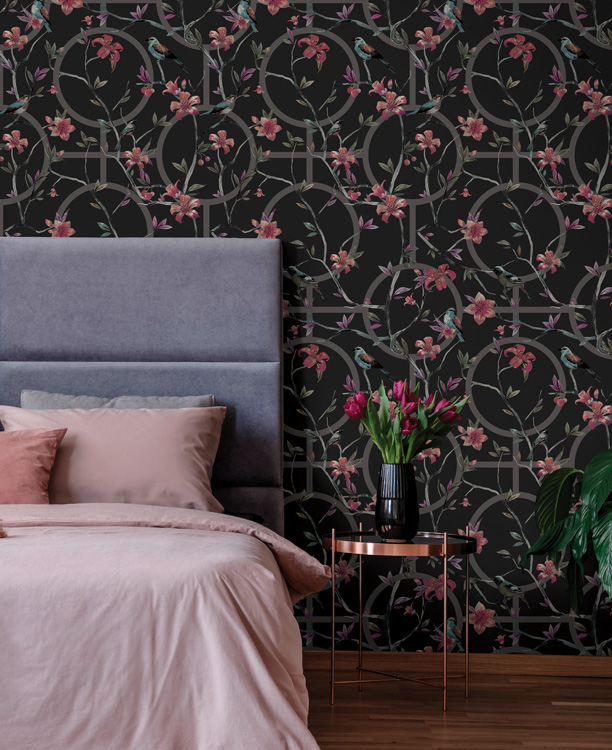 A unique bedroom wallpaper can turn an overnight stay in a design hotel into an experience to remember. After all, it's the distinctive style of the place where you rest your head that will keep people coming back for more. From exclusive private suites to edgy boutique hotels, find out where to stay to see the best of the best bedroom wallpaper in design hotels.
Hotel Le Montana, Paris
This impossibly chic Parisian hotel boasts a selection of stunning suites, designed with creative flair to pay homage to the avant-garde artists that once lived there, including cubist painters Picasso and Braques. Bold-coloured, themed rooms feature distinctive elements, such as conversational, pop art-style furniture or unusual Crystal Trompe L'oeil wallpaper.
Banksy's Walled Off Hotel, Bethlehem
Don't mistake this art hotel for an ironic piece by the notorious street artist, this is a genuine hotel, situated one mile from the centre of Bethlehem. A stay at the Walled Off Hotel gives you the chance to literally sleep inside a work of art. Apart from feature walls created by Banksy and other famous artists, the hotel boasts floor to ceiling views of graffiti-covered concrete from nearly every room.
Mandarin Hotel, Taipei
This 5* luxury design hotel features marble bathrooms, floor-to-ceiling windows with courtyard views, swanky club rooms, luxury lounges, even ballrooms. The floral bedroom wallpaper features a distinctive chinoiserie-style design, and matches the silk bedspreads on the king size beds. You won't go hungry either – there's a choice of three restaurants and an afternoon tea lounge too.
Aitana, Amsterdam
This cool glass design hotel is situated right in the heart of Amsterdam, on a new artificial island in the IJ River. The minimalist white bedroom wallpaper gives the room a modern edge, but doesn't detract from the impressive riverside views of the vibrant city centre.
Hotel Providence, Paris
The Hotel Providence embodies true Parisian style: It sits on a lively, cobbled street with a front terrace. The interior is decorated with designer fabric, architectural details and vintage furniture. Distinctive features include Pointe de Hongrie wooden floors, marble mosaics and bold, statement wallpaper.
W Hotel, Amsterdam
This quirky design hotel is made up of two buildings – a former telephone exchange building and a bank. The interior is an eclectic mix of heritage and contemporary style – rooftop lounge, luxury suites of three different levels and individualistic touches – such as the conversational style wallpaper.
Urban Cowboy, Nashville
Guided by their main principle 'to have a great time', Urban Cowboy is a place we'd love to stay in. Each of the experience suites in this East Nashville boutique hotel tell a story. A historic Victorian mansion has been converted into eight different suites fit for rockstars. Designed by the owner, the rooms come to live with eclectic found objects and hand crafted features.  We especially love the herringbone wood panelling, amazing painted ceilings and vintage wall coverings – from Victoriana to Art Deco wallpapers.
Discover our full range of modern wallpapers, luxe fabrics and unique cushions.
Bedroom wallpaper & Design /// 5 Easy updates