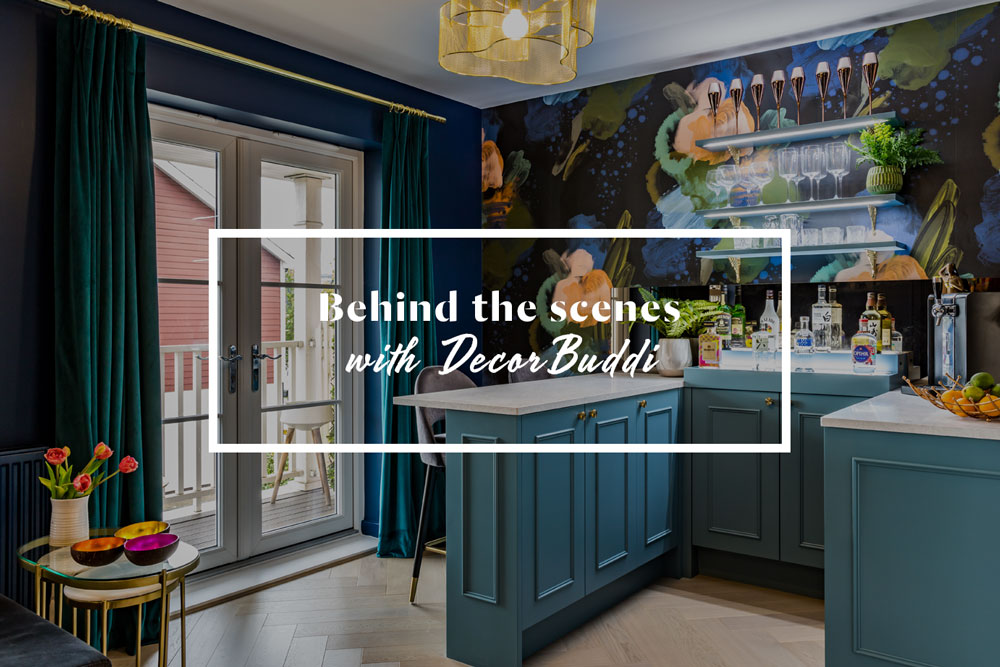 Meet Amy Dhala, co – founder of the innovative interior design company DecorBuddi. They provide a unique hand holding design service to help those lacking in interior design confidence or inspiration to make that leap from home drab to fab!
Once such project caught our eye – by featuring our bold abstract English Rose wallpaper design her team have created what we think is one of the most glamorous room transformations.
Here is the story behind Amy, and how English Rose became the star behind the bar ….
You can find out more about Decorbuddi here
I founded an online homeware business and furniture painting studio in 2011 and soon found that a lot of my clients wanted help not only in styling the pieces they were buying from me, but with additional design elements within their homes – from paint colours to storage solutions, gallery walls and furniture sourcing. I had a really lovely following of customers for whom I was their 'go to' person if they needed anything doing in their homes and also started to build up a really good little black book of tradespeople too. Little did I know then that this approach would be the very foundation for Decorbuddi's Get Started package which allows clients to have bit sized pieces of interior and garden help at fixed prices – for people who lack the time, confidence or even understanding of how it all works, this can be a great introduction to interior design.
Happiness! Our absolute mission is to make people's homes and gardens places that make them feel truly happy. We're firm believers that your surroundings have an all encompassing effect on your mental health – small details such as getting a colour just right, designing clever storage to hide away the endless clutter or even carving out some 'you ' space within your home to relax can make people's lives better. We listen and really get to know our clients to ensure their homes can be their ultimate sanctuary, designed uniquely for them.
Most projects begin with the shape of a space. Working out the best layout is the first step. Then the fun begins – researching fabrics, wallpapers, colour palettes, furniture and materials that will bring about the transformation. We delve deep, considering not just the look and feel but the provenance of the materials. Next we start editing – gathering items together into new, individual combinations. The trickiest bit is helping our clients to visualise how a concept will look in reality. Luckily there are lots of options available these days. Sometimes it is enough just to look at samples and sometimes a full 3D visual is needed. Once everything is agreed we turn the chosen design into reality with the help of our little black book of trusted tradespeople. Hanging wallpaper is more of an art than people realise, as you know! Working with talented trades and craftsmen makes all the difference.
Every project begins with a conversation, several in fact, to get a really good understanding of our clients aspirations, how they live and how we can help them. We do our best to get inside their heads, to understand what really makes them tick, so that our designs are a perfect fit for them individually. Part of it is about asking questions about their likes and dislikes and functional practicalities and part of it is about observing the things that they have gathered around themselves already and their responses to the ideas and inspiration we show them. Our design decisions are guided by the direction that they provide – but we always give a little bit more, something unexpected. It is this something extra, the element that they couldn't have anticipated, that they often like the best!
Our clients are a really fun loving, hard-working couple with young children. They are warm and welcoming and absolutely love entertaining. We wanted to create the best possible space for them to enjoy. A space that really suits their playful style and where they could make the most of the time that they have to themselves in their busy lives. They already had the idea for the bar and media room when they first contacted us. Our task was to transform their upstairs living room into a space where they could host their wine club and entertain friends.
Decorbuddi, Debbie Hannah, chose this spectacular wallpaper for its rich colours and bold design that evokes a sense of an alluring bar in the evenings, whilst remaining light, bright and up-beat during the day. It combines all the colours that we knew our clients loved and is the statement piece and starting point for the whole room. What's not to love?
My personal style would probably be described as ever changing – I have too many influences! I love vintage pieces, travelling momentos and art and would never have a home with everything bought new. I have always loved natural materials and have more of a vintage/industrial twist to my style.  We don't have a signature look at Decorbuddi as the very essence of the business is about listening to our clients and working with them to help them gain confidence and build on their own style (even if they don't know what it is to start with). Our clients homes vary from Georgian and Edwardian villas to centre-city pied-a-terres, rural country cottages and contemporary newbuild penthouse apartments … even houseboats.
Personally I love a market – any market will do from food to antiques to fabrics and fashion. Inspiration could be from the colour of an old tin to the pattern on a textile remnant. It's important to get out there beyond the insta-scrolls and really immerse yourself. Artwork is a common source of inspiration for our client's projects, that and the places that they have travelled to – nothing quite like a holiday to inspire you! Inspiration comes from our suppliers ranges too. This time of year is re-energising, discovering what is new at the launches of the new season's collections.
2021 is going to be all about creating comfort, escapism and fantasy in the sanctuary of our homes. Grey will continue to diminish as we are drawn to the joy of colour and warmer, earthy hues. Natural shapes, motifs and materials play an ever increasing important role. We have noticed that more of our projects include statement wallpaper and mural designs than they used to. Florals, graphic art and even textured surfaces seem to be something we can look forward to into 2021. We've also done a couple of mural commissions recently so people are wanting more and more personalised schemes, even if it is only on a wall or two.
If you want to create the same style, click here to shop the stunning abstract flower wallpaper 'English Rose' used in this project.