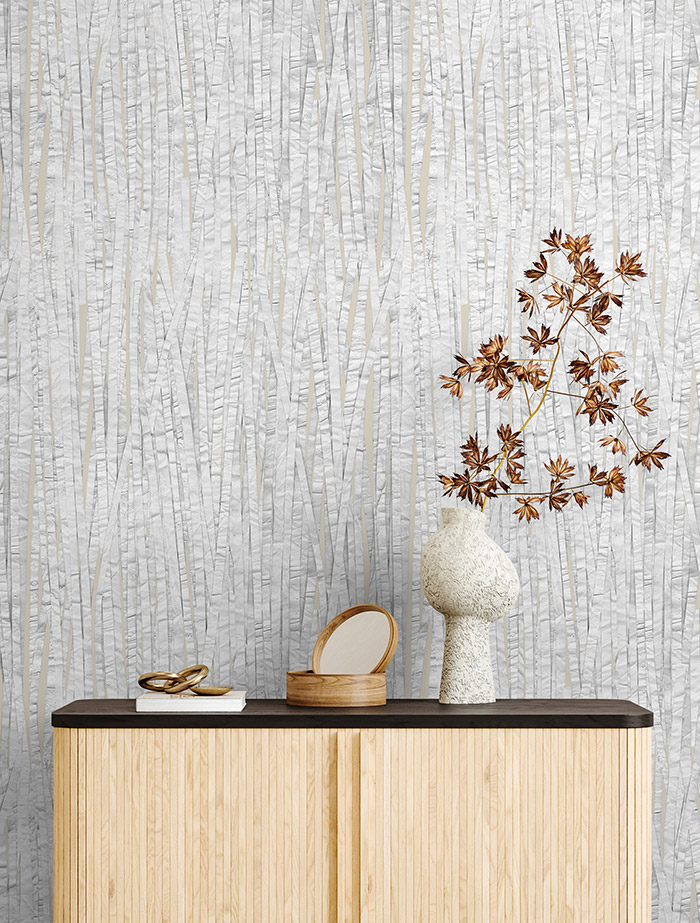 Cream interior design doesn't have to mean classic. Minimalist, elegant and understated, cream wallpaper and interiors are making a comeback and are looking fresher and more contemporary than ever. Find out why with our curated selection of the best of cream interiors below.
Metallic
The bronze metal chimney breast looks luxurious when paired with the cream walls in this contemporary living room. Any other colour wallpaper or paint would be too much, but the cream keeps things classy.
Scandinavian style cream interior
These beautiful paintings co-ordinate with the accents in this modern interior. The cream walls, sofa and rug keeps things calm and in line with the Scandinavian feel.
Industrial cool
The concrete cream walls of this living room have an industrial feel, counterbalanced by the wooden floor and character of the mid century furniture in the room.
Cream painted bricks
This painted brick wall is a more sophisticated take on the exposed brick wall trend. Paired with simple furnishings and co-ordinating artwork and table accessories, the overall effect is modern and striking.
Modern classic
The damask cream wallpaper is a classic style, and is enhanced by the modern traditional styling in the rest of the room. High ceilings stop this wallpaper from feeling overwhelming.
Modern loft living
What contemporary loft isn't complete without a floor-to-ceiling piece of artwork?! This interior balances everything to perfection – wooden floor, art, exposed brick and beautiful furniture.
A leather sofa is all you need
When your sofa looks this good, there's no need for anything else. The cream wall sets off the abstract artwork against it, and gives the minimalist room a warmer feel.
Subtle texture
This contemporary office space is the perfect place for a geometric cream wallpaper. To get the look, try our Marble Hexagon Cream Wallpaper in Sand.
Soft textures
A bedroom is the first room that comes to mind when you think of a place to put cream wallpaper. This Scandinavian style room is both cosy and contemporary.
Let art do the talking
This abstract painting demands attention – the simple wooden bench and cream wall and floor lets the art do the talking.
Two-tone cream
If the thought of an all-cream-room doesn't appeal, try two walls in different shades. This modern living room has beautiful cream walls, which don't detract from the focus of attention, the blue velvet sofa.
Minimalist luxury
The cream velvet sofa is the perfect way to counteract the cool polished concrete room. The overall effect is surprisingly calming. Our Grattage cream wallpaper in Stone is a great way to achieve the look yourself, without losing any heat.
Discover our full range of designer wallpaper, luxury fabrics and artist-made cushions. Browse our cream luxury bedroom ideas for design inspiration.
Embrace the dark side with black interiors