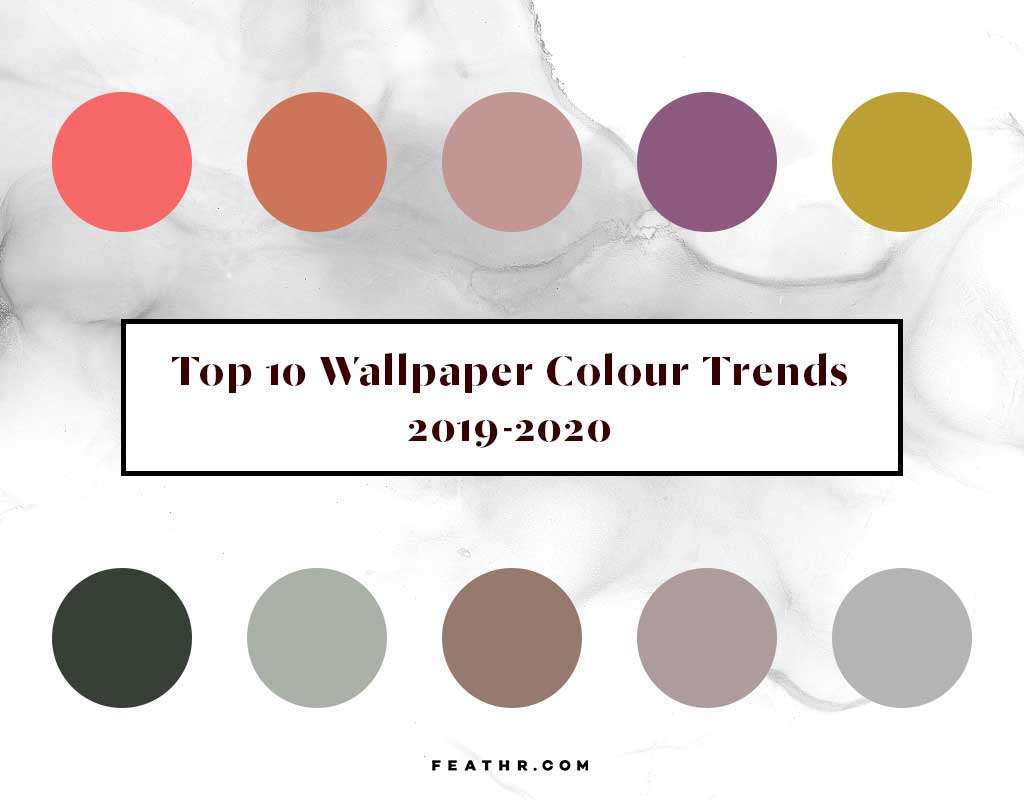 Designer wallpaper can be striking, uplifting, and calming… or any combination of the three. Many people want to make a statement with their home furnishings. Starting with a well-chosen wallpaper design makes it easier to achieve the result you desire.  Several colour trends are making a splash this season. If you want to know more about the designer wallpaper & interior colour trends for 2019-20, we've got 10 of the very best right here.
Imagine how these could transform a room – or even a single wall – in your home. Could this be the year you take confident steps forward in your interior décor style?  Regardless of the room – or rooms – you wish to upgrade, there is a shade here to cover them all. You may even find one or two pleasant surprises included in this beautiful mix of tones and colours.
Think of coral and you likely think of the stunning shades seen in nature on the coral reefs around the world.   Those coral shades are reflected here and given the chance to shine in this beautiful abstract print wallpaper mural. It works perfectly for a feature wall but is subtle and calming enough to be used throughout an entire room if you prefer.   The sensuous feel makes this one ideal to hang in a bedroom. However, it can also be used to good effect to liven up a living room and provide a beautiful backdrop for a much-used room.  The coral tones are at once relaxing and lively – a hard result to achieve but one that has been done admirably here.  Sustainably created and featuring environmentally friendly inks, the enlivening coral wallpaper truly reflects the inspiration it takes from the most stunning coral reefs. This wallpaper design manages to strike the balance between detail and overall appearance we think you will love. It's hard to take your eyes away from it.
Pictured: Riviera Coral Wall Mural by FEATHR La Feature Murals
Have you ever considered splashing flamingos all over your walls? We doubt you have, and yet this beautiful warm terracotta wallpaper may inspire you to do just that.  Very often, bold designer wallpaper can be too heavy and striking to work well in certain locations. However, this flamingo design wallpaper manages to find that balance and use it to great effect. It provides a superb and detailed design and a warmth and calmness you will love. There are floral tones here too, and the warm terracotta wallpaper colour helps to achieve a classic, vintage look. That mix of contemporary and vintage is hard to achieve, but this Tropical Shore wallpaper manages to mix a tropical setting with flamingos and floral notes to provide a truly stylish outcome.  This designer wallpaper works well in many rooms, particularly dining rooms, conservatories, and as a feature wall in a bedroom.
Pictured: Tropical Shore Terracotta Wallpaper by FEATHR+følk
Would a dusty pink wallpaper be top of your list when considering designer wallpapers for your home? It would likely be further down that list, if you considered it at all. Yet dusty pink does not necessarily need to be floral or feminine in nature, as proven by this striking pink terrazzo wallpaper design.  The pink background is soft enough to make this the ideal choice for many rooms in the home. A mix of stone elements is laid on top, providing a more striking and modern tone. Even if you usually steer clear of pink, it's difficult to steer clear of and dismiss a designer wallpaper as beautiful and calming as this one.  It works particularly well with white furniture and paintwork too. This allows the dusty pink shades to shine calmly through, making this a relaxing choice for bedrooms, living rooms, and other rooms in the home. Dusty pink is about as far away from garish pink tones as it is possible to get. We suspect this one will win a whole new selection of fans in the coming months.
Pictured: Terrazzo Amour Blush Wallpaper by LEEMO
Shabby chic has long been a popular home decorating style, yet it can be hard to achieve that style with wallpaper. If you desire a distressed appearance, this rich purple wallpaper will provide the most incredible backdrop to any style of furniture – from modern to vintage.  While a repeating pattern is visible in this wallpaper design, closer inspection reveals many more shades of purple and blue than might initially be visible. Inspired by water and its flow, the wallpaper seems almost to change every time you view it. A repeating pattern has provided inspiration here, but this wallpaper design takes things a lot further and achieves far more as a result.  Some people steer clear of dark wallpaper, but this walks the fine line between dark and light. With darker splashes of colour interspersed with lighter areas, the rich purple wallpaper is the ideal choice for a feature wall or an entire room. It implies cosiness and calmness in every area. Just what you need for a bedroom or a relaxation space.
Pictured: Layered with Love Indigo Wallpaper by Lyra Morgan
A classic shade of green that never goes out of fashion, Hunter's Green wallpaper provides a reliable choice when selecting the ideal colour for your designer wallpaper.  However, while many choose green hues that were inspired by nature, it's possible to go somewhere different with a modern take on Hunter's Green. Here, it provides a calming backdrop to striking geometric shapes. Those shapes seem to pop off the walls, creating a talking point among all who see them.  Muted and contrasting colours are used for the shapes, with darker shadows creating the three-dimensional effect. This Hunter's Green wallpaper works perfectly in a modern office, dining room, or kitchen. The Memphis-inspired design makes light work of allowing you to make a statement in the room of your choice. It may be darker than you are used to, but the result is well worth taking that risk.
Pictured: Utopia Green Wallpaper by ELO
Want to match these to these colours?  Try this useful complementary colour calculator!
Two colours are often better than one, but rarely have they been combined in such a stunning way as they are here. This soft sage wallpaper is at once calming and striking. The soft shades work well together and provide a clear divide between the two.   Yet upon closer inspection, this seemingly simple design has more detail and depth than you might expect. It will feel as if your entire wall has been turned into a watercolour, an inspired and beautiful design in the most calming shades of green you have ever seen. Once you start looking at it, it is hard to draw your eyes away.  If you desire a relaxing and personal space you can retreat to whenever you wish, this soft sage wallpaper achieves that outcome for you. When paired with simple yet stunning furnishings, this designer wallpaper is the ideal backdrop for a retreat you will love.
Pictured: Sand Sage Wallpaper by LEEMO
Mustard often recalls that bright yellow artificial shade we all recognise. Yet this muted mustard wallpaper could not be further from that familiarity. There are certainly some striking colours included in this wallpaper design, mixed with light and dark greys against a white backdrop. It makes quite the statement.  This wallpaper is ideal for those who love geometric designs without the usual preciseness they are known for. Mixing the familiar with the unusual results in this psychedelic muted mustard wallpaper that makes a splash in entrance halls.  Add a touch of brown here and there and the wallpaper achieves an almost calming feel too. Quite the achievement for such a striking print. The hand-drawn design takes its inspiration from several sources. While there is a clear graffiti-inspired leaning here, the result brings you the chance to hang a beautiful print in your home. This is certainly a modern designer wallpaper, but it also manages to touch on some classic and vintage elements.  This is a wallpaper that could go far beyond the entrance hall in your home. Where can you imagine hanging this?
Pictured: Psychedelic Pathways Mustard Wallpaper by 44flavours
This superb wallpaper was inspired by a photograph that is over a century old, taken by a lake landscaped by Humphrey Repton.  If you imagined chestnut shades to be far too dark for any room in your home, this designer wallpaper illustrates how beautiful the more subtle shades are.  This classic chestnut wallpaper gives you a sense of the outdoors while also instilling a sense of calmness in your desired room. The more you look, the more you can see in the background – the shoreline, a hint of a small wooden bridge, and various tones of brown and grey in the trees.  This designer wallpaper works beautifully in any room. Its detailing makes it ideal for a feature wall; yet hanging it throughout a room gives every element a chance to shine. There are light areas within the chestnut shades, yet you can also appreciate the muted areas within the design. It all comes together perfectly to help you achieve the interior design look you desire.  Imagine this classic chestnut wallpaper mural design hanging in your dining room, or perhaps in a relaxing space designed for reading. Wherever you desire to hang it, you will benefit from its detail. This is a wallpaper design you can truly appreciate in many ways.
Pictured: Swan Chestnut Wallpaper by Hugh Hamshaw Thomas
Imagine sitting in a windy meadow, surrounded by flowers, grasses, and thistles swaying around you. That breezy inspiration has led to the creation of this warm grey wallpaper. It not only gives you that sense of the outdoors, it proves that grey can be far from dull.  Dull is certainly not a word you would associate with this wallpaper. Instead, a calm backdrop is provided, against which many home interior designs would work well. Light grey furniture helps to complement the design, yet you could also make bold splashes of colour or opt for white furniture to provide a contrast.  The warm grey wallpaper has both muted areas and areas of more detail. The grasses and flowers do not go up the whole wall, giving you a lighter and more relaxed feel in the upper section. This helps create a more inspired look that would suit many rooms.  While this could easily be used for just one wall of a room, it is arguably seen at its best when hung throughout a room. The design is light enough to work in all sizes of room too. If you desire a reading nook or simply a calming place to sleep, this warm grey designer wallpaper would make the ideal choice.
Pictured: Windy Meadow Wallpaper by Anna Kukka
Geometry has long been a starting point for many designer wallpaper creations. However, it can often result in striking designs that are too complex or bright for modern décor to match. Not so with this smoky taupe wallpaper, which takes its cues from far more calming shades of brown. There is a sense of shadows, of shapes, and of detail here, even though the design itself is deceptively simple.   Brown is the inspiration for the colours used in this design. However, the result takes more shades into account, giving you that smoky taupe wallpaper finish combined with subtle pink and grey shades.  Hand-cut wood shapes were the starting point for this design. If you wish to make a focal point in your kitchen, or perhaps create an office space with a modern touch, this wallpaper would be the ideal choice. Clean, crisp, and smart, it manages to provide an eye-catching design that still achieves a calmness you will undoubtedly desire in your chosen space. This design is a modern and on-trend solution to decorating your interior in a way you will love for years to come.
Pictured: Elevation Taupe Wallpaper by ELO
Whether you are looking to provide an uplifting or calming feel to a room in your home, there is a wallpaper colour to suit. Finding a colour, pattern, and design that works with your home and décor can feel impossible. However, opting for more unusual and striking styles, much like the ones seen here, enable you to make a statement that will look superb for many months to come.
Find your favourite! Explore the FEATHR wallpaper collections.