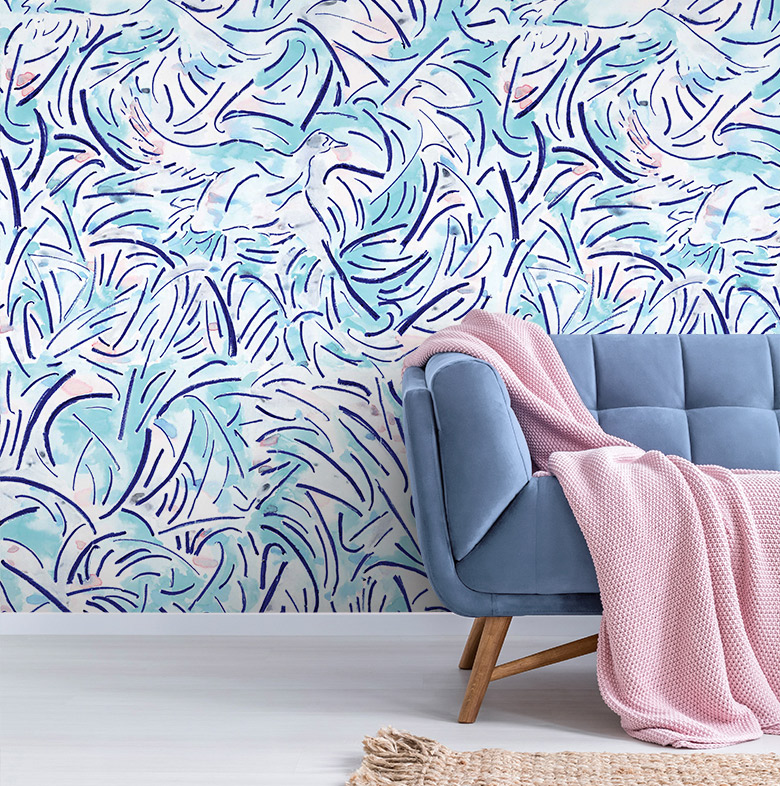 At FEATHR we feel super lucky to be working with such a talented and diverse selection of artists. Spanning all kinds of disciplines – from fine art painting, to graffiti and to tattoo inking, the work of each of our artists is consistently inspiring. But what are they doing when they're not creating unique wallpaper designs for FEATHR? We've put together a showcase of the freshest new projects and collaborations of our artists, to bring you up to speed with what they've been working on. Scroll for more.
Kiki Slaughter
American abstract artist Kiki has been busy launching Coco Hill, a line of painted jewelry, 'WEAR ART' in collaboration with jewelry designer and friend, Erin McDermott. True to its tag line, each piece is wearable art made with painted canvas sourced from actual paintings in Kiki's studio.
Kiki has also been spending a lot of time painting in her studio –  she is currently working towards a show​​ opening in May. It will showcase paintings and some framed textile works, including her painted canvas strips. These canvas strips are the paint covered, torn edges of old paintings, collected over the years, which tell the story of her painting process.
See Kiki's Oh La La wallpaper, unique cushions and luxury fabrics for FEATHR here.
Get the latest updates from Coco Hill via their instagram here.
George Douglas
Biritsh illustrator George's latest project is a self-published book, 'Homunculi'. A two-colour risograph edition of 50, this short book takes the form of a visual essay to investigate ideas of the represented human form. George took images of monumental sculpture and collaged them into human forms that resemble toys and figurines. Each book is assembled differently, using random combinations of the figures in a format that echoes children's games, as pictured below.
A solo show at Out of the Blue Drill Hall in Edinburgh called Contents Insurance investigated these themes further, but looking instead at monster movie poster designs and religious iconography.
Recent commissions for a number of newspapers and magazines also include AIGA Eye on Design and the New York Times.
See George's The Walls Have Eyes wallpaper for FEATHR here.
Visit George Douglas's website here.
Kiki Ljung
Illustrator Kiki has been working on a number of different projects recently, for a variety of sectors. Her recent commission by BBH London was to create a mural spanning two walls, to decorate the BBH offices in London.
Kiki also designed a modern floral print, featured throughout the Spring/Summer 17 ready-to-wear collection of London lifestyle brand Niro Wang.
See Kiki's Origami and Dog Park wallpaper for FEATHR here.
Visit Kiki Ljung's website here.
Ailsa Johnson
Tokyo based illustrator Ailsa's most recent project is a magazine cover for At The Table, a creative platform that explores and celebrates British food culture.
See Ailsa's Ember wallpaper for FEATHR here.
Visit Ailsa Johnson's website here.
Benoît Bodhuin
Benoît has been using his skills in graphic design and typography to create a selection of new typefaces. These include Elastik, a grotesk with elastic punctuation and diacritical mark, bb-book A, an expressive book serif (triangular and curved) kicking up weight, width and contrast and bb-book contrasted – a display and contrasted version.
Other projects include a sweatshirt featuring an interview typed in his newly-created bb-book A typeface, and a selection of narrative specimen posters showcasing the same bb-book A.
See Benoît's Text Column Regular wallpaper for FEATHR here.
Visit Benoît Bureau's website here.
Do Rime
Do Rime's Kawaii accessories are toys not just for kids. Her Hong Kong based brand B-Go transforms toys into Japanese Harajuku style, fashion accessories. The brand's accessories include pin brooches, which feature a distinctive monster eye flower motif.
To see more, check out Do Rime's Facebook and Instagram.
Sanne Sofia
Concepter, Graphic Designer and Art Director Sanne Sofia latest project involves a logo, identity and website design for Amsterdam based recyling project 'Zero Waste Lab'. Sanne collected waste and created imagery that explores the possibilities waste can offer, including discounts at the local shoemaker. Mathieu Hagelaar from Studio Hagel also contributed to this project, with his design of a shoe made from waste, pictured below.
See Sanne's Memphis Bound #2 wallpaper for FEATHR here.
Visit Sanne Sofia's website here.
Emily Wong
Artist Emily Wong has won two recent design competitions at Printed Village, a scarf and accessories brand based in New York. The designs will be printed on scarves for their summer and fall collections.
See Emily's Flo wallpaper for FEATHR here.
Visit Emily Wong's website here.
Marcos Navarro
Illustrator Marcos's recently exhibited solo, 'Binomio' at Miscelanea Gallery, Barcelona. The exhibition reflects on the status of humans, and the relationship between our own past, present and future, man's bond with animals, plants or minerals, and how we influence each other. Work on display included the below piece, 'Knowledge'.
See Marcos's Persecution wallpaper for FEATHR here.
Visit Marcos Navarro's website here.
Sophy Hollington
Artist Sophy Hollington's work often takes the form of relief prints, involving the process of lino-cutting. Her latest commission is for the cover of The New York Times' Book Review. She typically explores dystopian themes and motifs in her work, including plane crashes, animated gravestones and the apocalypse, and her latest book cover commission is no exception.
See Sophy's Department wallpaper for FEATHR here.
Visit Sophy Hollington's website here.
Reeta Ek
Reeta Ek's recent collaboration with Lapuan Kankurit for the John Nurminen Foundation is a line of natural home accessories featuring Reeta's distinctive expressive mark-making style. In support of the foundation's Clean Baltic Sea Project, Lapuan Kankurit will donate a fixed sum for every product ordered. The proceeds will go towards reducing the nutrient load and environmental risks facing the Baltic Sea.
See Reeta's unique wallpapers, luxury fabrics and modern cushions for FEATHR here.
Visit Reeta Ek's website here.
Casper Heijkenskjöld
Glasyr, Casper's Copenhagen-based design studio's recent work includes an image campaign for Danish home accessories company Munk. The resulting surrealist photographs give the brand a distinctive edge over more classic Scandinavian-style homeware on the market.
Other recent projects include a collaboration with MIX Copenhagen for the visual identity of its annual festival.
See Casper's Flo, Drift and Focus wallpapers for FEATHR here.
Visit Casper Heijkenskjöld's website here.
21 Design Highlights from 2016 /// Chosen by Experts