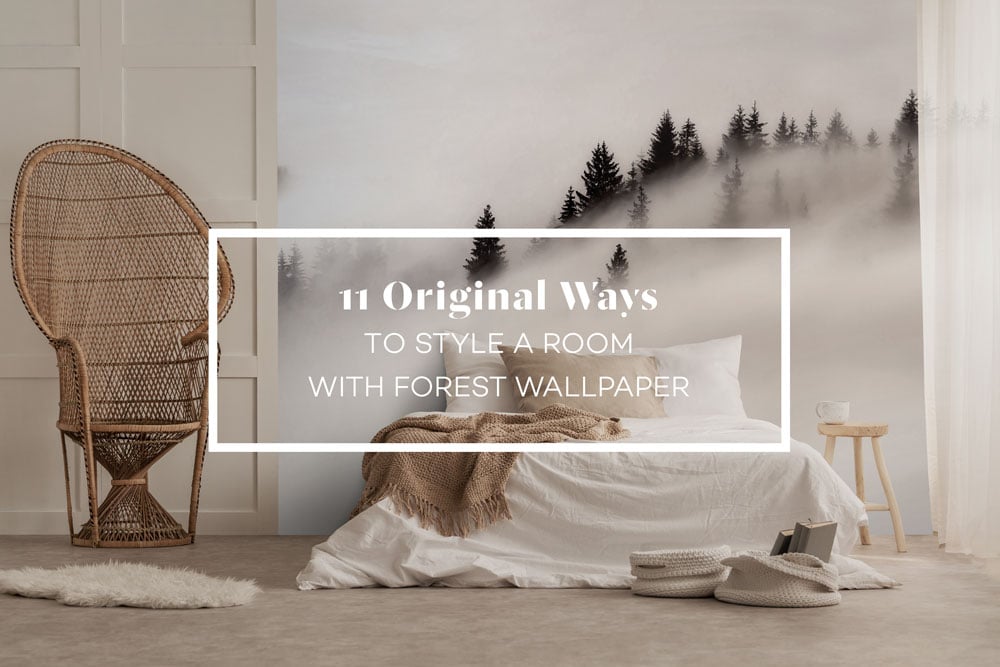 Bringing the outdoors in… that's the idea behind this transformative new trend in interior design. Forest wallpaper is making its way into bedrooms and living areas up and down the country. The look ranges from subtle and calming to dramatic and vibrant, as you'll see in the examples we've provided below.
If you want to create this look but you're short on inspiration, allow us to help. Go Nordic, go abstract, go eastern… the choice is yours.
You can't beat the Scandinavian look, particularly if you choose a misty morning Nordic forest as your backdrop. This vintage forest wall mural design brings hygge into your bedroom in the easiest of ways. It also brings depth to any space thanks to the autumnal design fading into the background.
With this as your backdrop on a selected wall, you can use calming off-whites and greys on the remaining walls and woodwork. Think light colours that are relaxing to look at and bring everything together with a complementary palette of shades – nothing too dark.
When using this wallpaper in a bedroom, you can opt for white and grey bedding and cushions to continue the theme throughout. This is set to be a personal space that marries the Scandi look with the retreat you have always longed for. Can you imagine retiring to this room after a long day… every day?
Pictured: Oslo Smoke Scandinavian forest wallpaper mural
Nothing beats pure white for the walls of a bedroom. You can alter the colour scheme of the accessories whenever you wish without changing the décor. However, too much white can be a bad thing. Introducing a forest wall mural gives you a striking backdrop that doesn't resort to strong colours to make a point.
This moody and attractive forest wall mural brings us a panoramic image called Morning Dew. It's the perfect way to perk up a space that would otherwise be too bright. Colours range from dark to light as your eye moves up the wall, complementing your white walls and woodwork beautifully.
The introduction of colour into the bedroom means you can also use pure and soft white bedding and chunky pillows to add to the softness of the look. Add a blanket or a throw, either in white or a natural shade, and you've got a calming space to wake up in each day.
Pictured: Morning Dew Day abstract forest wallpaper mural
Using whites and creams alone can make a bedroom feel washed out. Adding a forest wall mural provides the 'pop' you're looking for to create that perfect finishing touch.
This misty forest wall mural is called Carpathia, depicting the early morning mist settling in between the trees. There is a great feeling of height and depth in this mural. When it is hung behind the head of the bed, your eye is drawn to the most important piece of furniture in the room.
Complete the styling by adding one or two natural pieces of furniture, perhaps something made from wood or bamboo to create a rustic look. A natural throw ties everything together, while the white bedding takes the eye from the comfort of the bed to the misty mural behind. This is quite the calming place to drift off to sleep each night. Provide ample storage elsewhere to ensure the room always remains uncluttered and calming.
Do you have a small space that should be big on design? It calls for something more striking – a forest wallpaper with a modern and abstract appearance. Filled with browns and various tones of green, this Raindrops wallpaper design provides the ideal choice for an entryway or hall.
To get the most from this look, you can marry the wallpaper with wooden furniture. One or two pieces, carefully chosen to provide practicality or a focal point in the hallway, complement the natural tones of the wallpaper beautifully. Each makes the other stand out in the best way, providing you with a pleasing way to welcome visitors into your home.
This wallpaper may be bold, but the addition of dark-stained wooden furniture ensures the balance is just right. Modern wooden furniture is preferable, although a well-chosen antique piece would also look impressive here. Based on an original artwork by Finnish artist Tamara Piilola.
Darker tones work well in larger spaces. An eastern look is appealing in many scenarios, and if that is the look you wish to create, cherry blossom is a reliable way to achieve it.
This Japanese floral wall mural guarantees you can create the desired look by introducing vintage cherry blossoms over an entire wall. Available in several colours, the wall mural provides large and light cherry blossoms filled with eastern promise.
The appearance of the blossoms gives you versatility when styling the room, too. A rustic-looking bench provides simplicity and practicality rolled into one. Large ornamental pots can be left empty or filled with plants hailing from the East. Plain floors work best to complement the wall mural, although you may wish to add a rug or other floor mat in a natural shade or material to help soften the overall look of the room.
Darker woods are in vogue. Paired with rustic real wood floors, they can provide a warmth and richness that is impossible to create any other way. Finding wall colours to pair with this look can be a challenge. Since wood is a natural material, it makes sense to style the room with a natural forest wall mural too.
The Stag Forest wall mural is one of the best choices for such surroundings. Offering a huge watercolour look over one wall, this mural gives depth among its tones of faded green and brown. The remaining walls of the room can be painted in neutral shades, picking out some of the shades within the mural itself.
Dark wooden furniture offers a practical and eye-catching way to finish the styling. Whether it is antique or modern, such furniture can be paired with the occasional modern piece too, like this white table. Complete the look with other darker items such as a vase, and perhaps some fresh flowers.
Pictured: In the Glade misty forest wall mural
It's possible to get the forest wallpaper look without resorting to all the greens and browns that often come with it. If you love the look of this season's hot coral (from Pantone's Living Coral, the colour of the year), you can get the best of both worlds with this romantic toile de jouy wallpaper mural.
This looks sensational as the focal point of a room with a coral sofa provided for comfort and perhaps a touch of romance. The darker pink shades towards the top of the mural work well when paired with calming coral shades throughout the accessories. A simple side table and some comfy cushions help create the cosy feel you want.
Don't be afraid to pick out the lighter parts of the mural by introducing some off-white touches too. Off-white paintwork reduces the harshness of those finishing touches, while a white blocky table and lamp reduce the light during the evening hours. Hot coral doesn't need to mean you can't relax in that space.
Pictured: Swan Rose toile de jouy wall mural
Shabby chic may have been around for a while, but it shows no signs of going out of fashion just yet. Instead of hanging wall art, turn an entire wall into a painting with this Calame Forest wall mural design, originlly painted by Alexandre Calame.
The shabby chic look works well with this design, providing you with ample opportunity to pick out the right pieces to contrast with the lush yet muted greens seen throughout the wall mural. This image shows a selection of lush greys in both light and dark tones. They stand apart from the forest wall mural while providing the shabby chic look that you're going for.
The styling can be done either with modern pieces designed to replicate the look or with second-hand pieces given a new lease of life. This look provides a simple way to enjoy shabby chic while introducing the look of a large painting that is sure to become a real talking point.
Copper is making bold strides into many areas of interior design. You don't need to introduce lots of it to make a statement either. Selecting the right wallpaper to complement those coppery tones is a challenge, however.
Fortunately, this bronze vintage tropical wallpaper design ticks all the boxes. The wallpaper is divided into sections, each separated by a patinated bronzed border. The vintage look is best viewed from a distance, although the detail in each panel is fascinating to see up close too.
A few statement pieces of furniture in a copper finish provide the perfect counterpoint to the forest wallpaper design. Richness is even easier to add, with a lush velvet sofa and contrasting velvet cushions. Light and natural colours both work well with the rainforest wallpaper behind. Despite the striking appearance of the wallpaper, this room exudes a calming feel both day and night.
Pictured: The Palm Grove vintage tropical wallpaper
Get lost in Goa with this statement piece in tones of grey, offering a rainforest wallpaper mural you won't be able to take your eyes away from. The moody look works well when combined with wooden panelling along the bottom third of the wall. Choose a darker grey paint colour for the panelling to bring out the darker tones of the forest wallpaper above.
This look is perfect if you want to base your interior décor around dark greys. A mid-grey sofa is beautifully finished with dark grey cushions and lighter grey throws. The mix of greys provides more depth overall and brings out every element hidden in the wallpaper.
The classic panelling provides a relaxed yet more formal look, while the wooden floors add to the natural feel within the room. This look works well in an entertaining space that is also intended for long relaxing evenings spent recharging your batteries.  Or, of course, you could head to the real Goa for lush jungles and beautiful beaches.
The height of a room should always be taken into consideration when deciding on a colour scheme and interior design touches. A loft space provides additional challenges. Yet if you draw attention to that height, it can produce the most amazing look.
This tall tree wall mural shows how the extra height is highlighted to make the space feel large and yet welcoming too. The Zephyr design was originally painted using watercolours, so it adds a muted yet striking look to your room. The suggestion of leaves falling and autumnal trees changing colour is appealing.
This look is perfect if you want to introduce natural tones of brown and cream into your bedroom. Add some real greenery to soften the look and perhaps the odd wooden statement piece and the appeal is clear. Casual seating makes a large room feel cosier too – quite the achievement when you have high ceilings and ample amounts of space to cope with.
Pictured: Zephyr watercolour forest wall mural
Forest or tree wallpaper might sound like a single style, but it's far from it. It can be muted or striking, calming or eye-catching, depending on the design you decide to go for.
Whether you want to create an eye-catching look with splashes of colour or something far calmer, choosing the right wallpaper helps achieve your aims. Regardless of the room you want to change, how will you achieve the look you're going for this season? Will you hang some forest wallpaper to provide you with a completely different look?
Find your favourite! Explore the FEATHR forest & tree wallpaper collections.