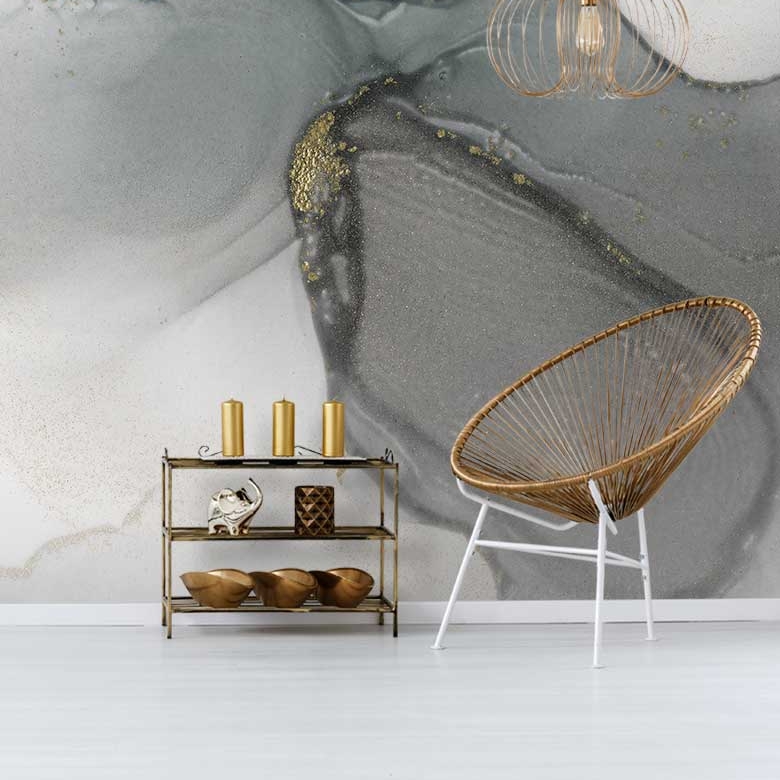 We're all familiar with the idea of making a statement in our homes. It says something about our characters, what we like, what we feel passionate about. When we get it right, we are proud to open our doors to welcome people inside. We might also wonder what they think and whether our tastes appeal to them. There is a lot of fun to be had in making a statement with our interior design choices.
However, interior design isn't just about making a striking statement. It's very easy to achieve that and yet miss out on the luxurious feel we could achieve at the same time. There are different ways to live in luxury. Sometimes, the best way is to choose a backdrop that oozes a luxurious and welcoming feel.
And what better backdrop could you choose than some beautiful gold wallpaper?
Gold isn't necessarily the first color you'd think of when selecting some luxury wallpaper to brighten up the room of your choice. However, you might be surprised at how it can deliver just what you are looking for, without overwhelming you with golden touches.
Here is our choice of the finest selected wallpaper and gold wall murals you could introduce into your home. From the most retiring of designs to the most striking, there is sure to be something here that speaks to you. Our gold wallpapers are also available in stunning metallic finishes, making them perfect for every room in home from the hallway to the kitchen.
This luxury wallpaper is a superb example of how gold can be just part of the overall design. This is an abstract piece based on Kiki Slaughter's use of various oils and acrylic paints to achieve a layered effect. While the design has been replicated onto this luxurious and weighty wallpaper, that layered illusion remains. There is certainly no need to introduce artwork to hang on this wall – the wallpaper itself forms the artwork you desire.
Slaughter works in Goat Farm Arts Center in Atlanta. The original painted artwork has been transformed into wall covering. With three complete panels included in each roll, Safari is a beautiful choice for any feature wall. Indeed, it takes the idea of a feature wall to another level. You can invest in a truly stunning and high-quality wallpaper for one wall while keeping the other walls in the room beautifully simple, perhaps with nothing more than matt white paint.
The abstract design also brings in a modern shabby chic look, something that would work equally as well in a private bedroom as it would in a shared luxury lounge in a modern hotel. The versatility shown in this piece is quite stunning, marrying those golden touches with white crackled and layered paints. If you are searching for luxury wallpaper, you could look at for hours and still find something new; the Safari design is perfect for you.
Pictured: Safari wallpaper in Gold
This Mystic Teal gold wallpaper design demonstrates how everyone can find the ideal gold wallpaper for their desires. It is easy to assume gold wall murals can be overwhelming – perhaps too gold for our tastes. Yet Mystic Teal strikes the balance between introducing gold into a room in a subtle way and holding back from overstepping the mark. It is indeed a tough ask, but this wallpaper design manages to get it just right.
The golden tones in this calming design by painter Jen Merli marry up well with the various shades of blue and green that appear there. The gold provides a dramatic swirl through the middle of the design, which gives the impression it has been dipped in water. Indeed, the golden swirl becomes the main attraction on this non-woven wallcovering, providing a natural flow that makes it a smart choice for a bedroom or other relaxing space in the home.
Best selected for a feature wall, the Mystic Teal gold wall mural is also perfect for bedrooms in boutique hotels aiming to welcome their visitors to a different and altogether more luxurious experience. It also suits color palettes based on pastel shades, if you intend to use such a palette to inspire furniture in the room. This wallpaper will give you the backdrop you are looking for to tie everything together.
Pictured: Mystic wall mural in Teal
From a design that uses gold only sparingly to a gold wall mural that isn't afraid to put gold front and center, this Inner Vision wallpaper is a real statement piece. The LA based artist Clara Berta created the original artwork using mixed media, which gave her the ability to work the design to include various levels of paint and drama. Yes, drama – there is no doubt the gold wallpaper design present in this piece is full of it in the best possible way.
All at once, the piece seems to indicate rebirth and newness, and yet we also see the destructive side of life, as the white paint appears dotted over the darker colors. Hanging this wall mural means you do not need to concern yourself with artwork in the room, as it takes center stage wherever you hang it. The gold areas are not overwhelming though – something many people shy away from. This is not a gold design with shiny areas or modern gold touches. Instead, it provides an almost rustic look, with plenty of detail even in the large span of gold in this feature design.
Capable of being hung on walls up to three meters in height and an impressive 4.5 meters wide, the luxurious paper is presented as both non-woven and metallic gold wallcovering. The bespoke ordering process makes the Inner Vision design ideal for larger walls, not just in the home but in commercial locations too. Versatile, striking, and sure to be a real talking point, the Inner Vision gold wall mural adds an easy, luxurious touch before you even consider the various furnishings you might later add.
Pictured: Inner Vision wallpaper in Gold 
Do you still feel the above suggestions contain a little too much gold for your preferences? Are you looking for something even more dramatic, where gold is very much the finishing touch rather than the main event?
The very nature of gold means you need not introduce very much of it into a room to achieve your desired look. While the above suggestions are ideal for bedrooms as they contain a calming feel, this Waterfall design is very much intended for a shared space. A dining room, a lounge, even a hobby room or study… the possibilities are endless. These are often the rooms that are forgotten when it comes to luxurious touches – we tend to prefer them in bedrooms rather than shared spaces.
The drama is high in this abstract design from Stacy Solodkin. Consisting largely of blues and grays, you would be forgiven for missing the gold in this design at first. Restricted to the details, the gold almost retreats from view, providing an added surprise whenever it catches the eye. And it will, as you never need too much of it to stand out.
The stunning design provides a real talking point, replicated on a heavyweight 150g non-woven wallcovering. This is also a bespoke piece, so you can order it in whatever size you require. The bespoke nature of the piece makes it perfect for ordering to hang in hotel lobbies, bars, and restaurants, where making a splash is of paramount importance. Don't discount its power to provide the perfect talking point at home, though.
Pictured: Waterfall wall mural
Would you imagine gold to take on a crucial role in a wallpaper design inspired by coral? It would not be the first thing you'd think of, and yet the golden touches in this Whisper gold wallpaper design make for the ideal finishing touches to what is already a striking piece.
Watercolors are not often thought of as the most dramatic medium to create a wall mural with. However, the Whisper design manages to achieve just that. It uses both light and dark areas to bring drama into the desired space and gives just enough detail to look superb across a larger expanse of wall. You may even decide to use this over two or more walls in a larger room. It carries plenty of weight and manages to balance calmness and drama all in one design.
Of all the luxury wall murals you could choose, the Whisper wall mural uses mere touches of painted gold detail to make it even more unusual. The bold design draws you in, before the detailed gold specks catch the eye and demand you look more closely. Then you see the tiny gold flecks throughout the darker portions of the gold wallpaper design. It is quite an achievement to create a view that looks superb both at a distance and up close.
It is this versatility that makes the Whisper design perfect for the home and for various commercial projects. Imagine this in a reception area, a restaurant, or even a hotel suite. The high-quality metallic wallcovering is also designed to last, allowing you to appreciate it for many years to come.
Pictured: Whisper wall mural in Coral
This gold wallpaper design has similarities with the Waterfall design covered above. Part of this is due to it being designed by the same artist, Stacy Solodkin. Perhaps more important, however, is the fact it has drawn in the golden touches as subtle details added after the main design is complete.
Introducing gold into any room adds luxury in a way that is hard to achieve otherwise. If you intend to add furnishings (soft or otherwise) to the room that have elements of gold included, the Drift with Me gold wallpaper will help you tie everything together. Printed onto luxuriously weighty, metallic wallcovering, the design is intended to be made to your precise order requirements. This bespoke approach ensures you can get the perfect finish to whichever wall you intend to hang this on.
The wall mural allows you to make an impression from the moment someone walks into the room. That could be a large dining room or kitchen space at home, or perhaps a restaurant opening its doors for the first time. First impressions always count, and the presence of this stunning mural, introducing calming blues in a watercolor design with gold to complete the look, does the job admirably.
This is perhaps the dreamiest backdrop of all when luxury and relaxation need to dovetail together. It demonstrates how a continuing design works best in larger spaces, where there is no repeat of the pattern.
Pictured: Drift with Me wall mural
From small rooms to the largest open-plan spaces, gold wall murals have the power to draw in everyone. When a room is stripped back to bare walls and floors, it is difficult to know how to create a design that you'll love for years to come. It is harder still to achieve that luxury look when you are trying to find the right elements for a commercial space.
Gold wall murals have the power to impart detail, luxury, and striking looks in one fell swoop. We've seen designs that are big on detail and others that are big on making a huge impression on all those who see them. We've also seen you can achieve both those things in one wallpaper design.
If you thought gold was a little too 'out there' for wallpaper, perhaps you can now see this is not the case. Even the most dramatic designs carry a calming feel, adding weight to that luxurious touch. With the chance to order bespoke sizes in many cases, it is also much easier than you think to get gold wall murals that fit the exact space you have in mind.
Interior design is often in the details, but it takes a lot of work to make sure the finished look is as luxurious as you desire. These wall murals and wallpapers make that aim easier than ever to achieve.
Find your favourite! Explore the FEATHR gold wallpaper and gold wall mural collections.