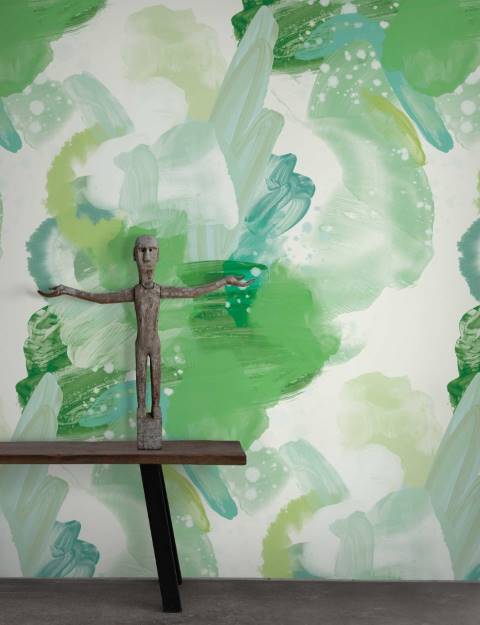 Renewal, rejuvenation and bright new beginnings – Pantone's colour of the year 2017 'Greenery' is the fresh start to the year we've all been craving. Out with the old, embrace the new with our top tips on how to add a little Greenery into your own home. Scroll for more.
Naturally green
Get inspired by nature in all its glory with this beautiful A New Ornate Wallpaper in Summer. This stunning modern design is the perfect way to welcome the new year, shake off the cobwebs and revitalise your home.
Blooming beautiful
Add a little Greenery into your bedroom with a modern cushion like our X-Ray Rose Cushion in Grape. Scatter these cushions on a bed and you've nailed two trends in one.
Get energised
Who wouldn't want to wake up to this invigorating Spring Ice Wallpaper in Autum Leaf? Don't let the name deceive you – this zingy wallpaper by Aoi Yoshizawa stays refreshingly modern all year round.
Sophisticated Greenery
Greenery can be an intense colour to incorporate into your home if you're used to a more minimalist colour palette. Machair Wallpaper in Spring Blues is the perfect introduction to this vibrant colour if you're not quite ready to dive in head first. This contemporary, scattered design in uplifting shades of blue and green is a great way to liven up a living room.
Feel inspired by the beauty of nature
Look forward to warmer weather with our beautiful luxury Firefly Wallpaper by Yuexin Du. Inspired by the artist's summer nights of her childhood, this unique, modern wallpaper will instantly refresh your home.
Brighten up 
Greenery is a positive colour with a vibrant, energetic feel. Compliment the colour with similar bright reds, blues and yellows to really lift a room. Our La Cueillette Cushion in Cocktail has a Summery, Tropical feel that channels good vibes in any space.
Tell a story
Greenery is the perfect colour for a new beginning…start your own story with this conversational Marshall01 wallpaper in Green by Pop Artist Russell Marshall.
Be bold with Greenery
Greenery is all about experimenting, revitalising new beginnings and vitality. What better way to evoke this sentiment than with our English Rose Wallpaper in Green? Reeta Ek's stunning design is an effortless way to modernise your home with this of the moment colour.
Refresh last year's mood
Origami interiors were big last year, and our intricately detailed Folds wallpaper in Green is the perfect way to bring the trend bang up to date for 2017.
Softly does it
Introduce this rejuvenating colour in a softer colour palette for a calming and refreshing look. Teija Vartiainen's beautiful Baltic Sea fabric in Mint is the perfect antidote to the stress of everyday modern life.
Discover our full range of designer wallpapers, luxury fabrics and unique cushions.