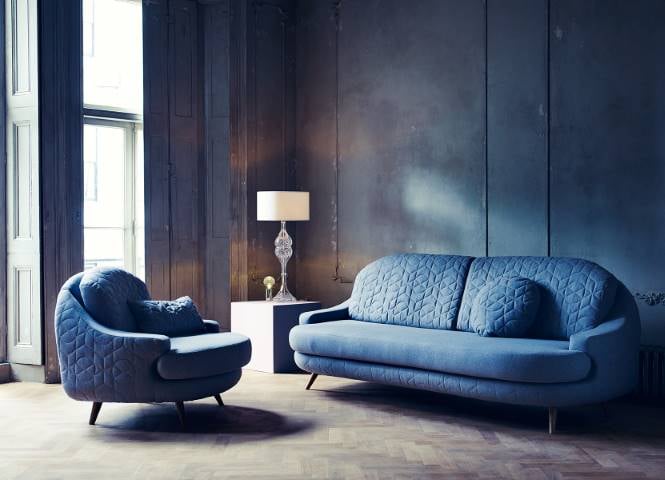 COOL BLUE LIVING ROOM BY JAKE CURTIS
If the topic of Spring Blues is on your mind, make sure they're the right kind of blues – subdued blue to be exact. Find out the hottest (and coldest) new colours to decorate your living room with this Spring, from worn terracottas to alpine greens, these 7 shades will transform your living room from mundane to modern.
1. Alpine green
Go green for 2017. The undisputed colour of the season – if not the year – green can be found on living room wallpaper, luxury bedrooms, hallways and bathrooms everywhere. If the thought of an apple green sofa makes you shudder, a feature wall decorated in alpine green is a calming, contemporary alternative. This modern green colour is so versatile, it works with Scandinavian interiors, minimalist living rooms, or luxurious homes – whatever your taste in décor.
2. Subdued Blue
Blue hues have turned colder in interiors this Spring. Modern and refreshing, this colour will compliment contemporary living rooms with grey, blue, white or wooden furniture. Add plenty of texture, like velvet cushions and sofas, or unusual wood side tables to prevent the room from feeling cold. The modern wooden paneling pictured is a perfect example.
3. Worn terracotta
Terracotta is once again on trend, believe it or not. This season's shades range between deep, vibrant colours and subtle, worn terracottas with a hint of pink. Worn terracotta is an easy way to bring your living room bang up to date, and has the ability to make a room look cosy and contemporary at the same time.
4. Burnt orange
If understated isn't your thing, throw yourself into the hottest new colour to decorate your living room with: burnt orange. More sophisticated than normal orange and more exciting than brown, this sassy shade works with bold styling and interesting textures.
5. Blush pink
Still a favourite, this romantic colour is great for making an impact in a modern living room with a single feature wall, a two-tone, half painted living room or blush pink, retro sofas and chairs.
Image: Jotun.com
6. Concrete grey
Cool grey gets a little warmer this season, and when paired with mustard sofas, wooden accents and textured cushions and rugs, your living room feels more like contemporary interior design than a concrete cell.
7. Pale Jade
Pale jade is the romantic way to introduce green into your living room. Modern and versatile, this shade works particularly well in pared-back, minimalist Scandinavian living rooms and equally in grand room with high ceilings, French windows and vintage styling.
Head over to our Pinterest board for more colour inspiration for your living room this Spring.
Discover our full range of unique wall papers, designer fabrics and modern cushions.
How to Style your Living Room, with wallpaper and more.