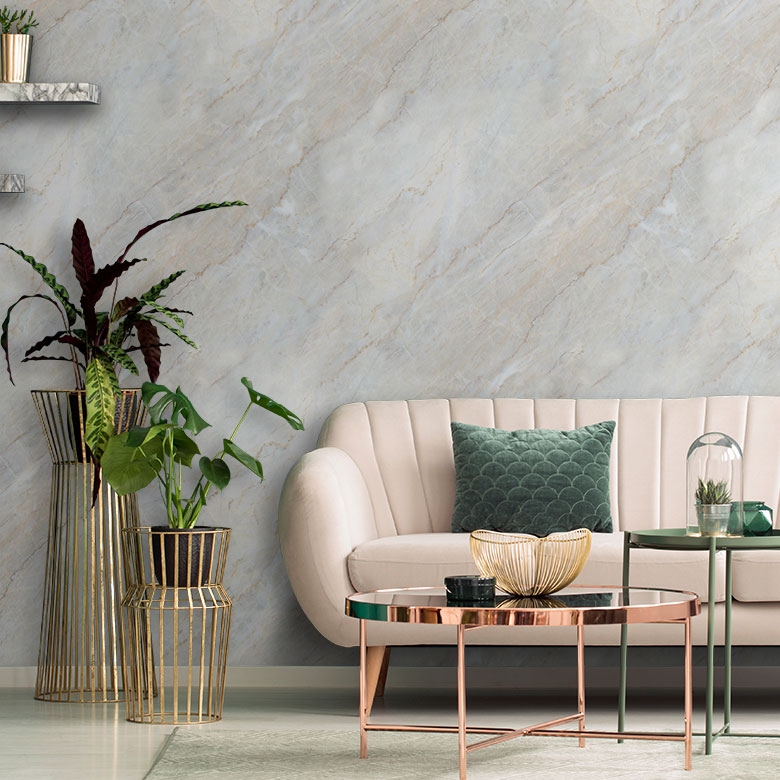 Pictured: Marble Dream wallpaper for walls
The marble look can be overbearing in some cases. Not this time, though. This subtle take on the familiar marble design provides an abstract look everyone is sure to love. Sticking with muted tones of cream, pink, blue, and grey, the finished appearance is stunning. Even the largest spaces feel calmer and more relaxed with this backdrop in place.
Designed by Wallpaper + Folk, each generously sized roll provides three complete panels. Simply paste the wall and hang the paper to achieve the look you desire. Perfect for bedrooms, bathrooms and relaxed spaces, this wallpaper is also ideal for commercial use. Its high quality finish makes it a long-lasting choice for bars, cafes, and even hotels.
Pictured: Infinite Paths wallpaper @ Retaurant Hue, Hong Kong. Image credit: Michael Perini.
Be bold with this jade green take on the traditional marble design. Use this striking wallpaper for walls in private homes and large commercial spaces. It is big enough and bold enough to carry through any design features or ideas you have in mind.
Created by Stacy Solodkin, a Californian abstract painter, the design demands to be noticed. Could it be the perfect designer wallpaper for a bohemian café, an upmarket hotel, or even a meeting space in an office? Made to order and sure to be a conversation piece regardless of where you hang it, the wallpaper mural is striking yet relaxing to look at. Perfect for helping you wind down from a busy day or to help your guests relax in their hotel room. It works in lots of different areas and ways.
Pictured: Shimmer Chevron wallpaper for walls
If you are after a shabby look rather than a familiar marble design, this Shimmer Chevron designer wallpaper option could be perfect for you. At first glance, you may not even notice the chevrons running through the design, as subtle as they are. However, upon closer inspection, the calming marble backdrop is shot through with the geometric design elements to create something truly unusual.
The distressed look makes the most of marrying gold with tones of grey. You'll see how the wallpaper is perfect for small spaces, perhaps in a home office or reading room. However, the design also works well on a large expansive wall, perhaps in a converted warehouse or a large hotel lobby. The non-soaking 10m long rolls make this a beautiful choice for many commercial projects of all sizes.
Pictured: Archipelago wallpaper
An archipelago is a series of islands in a cluster, and you can see how that idea has inspired this designer wallpaper from Teija Vartiainen. With the Finnish archipelago kept in mind during the creative process, the artist mixed salt and sugar with watercolours, developing the unusual spots and golden border areas in the marbled design.
Featuring a mix of blues, greys, and those golden touches too, the paper looks fascinating up close, yet provides a stunning and richly-toned presentation on a larger wall. Archipelago comes in several colourways, yet the gold marble finish is our favourite. Would you agree? We think it makes the ideal finishing touch to transform a hotel lobby, corridor, or restaurant space. Choose this paper for your commercial project, and you'll see why this design is as popular as it is.
Pictured: Pastel Powder wallpaper for walls
Another top choice of ours from designer and illustrator Teija Vartiainen, the Pastel Powder name, reveals a hint of what this Venetian-style design holds in store for you. Sometimes, a marble wallpaper for walls, both small and large, can hold a striking mix of colours. This time, though, the artist has worked with subtle tones to bring a new feeling to the finished design.
Even the smallest feature wall would look beautiful with this bold statement piece in place. That said, the design comes into its own when hung on a large wall. Consider this piece in place in a commercial project, perhaps a restaurant or bar looking to make a bold statement. Its versatility makes it the perfect option for all commercial ventures, from the smallest to the largest.
Pictured: Bacchus wallpaper for walls
If you are thinking that most marble wallpaper designs opt for the lighter, cooler shades of whatever colours are involved, this Bacchus design will change all that. Offering a bolder take on what you can do when inspired by marbled designs, the Bacchus wallpaper from Wallpaper + Folk goes for something altogether darker. Copper and bronze are married in a distressed design based on large tiles, with a richness that is immediately obvious. Even the detailing in the spaces between the tiles is impressive here.
This wallpaper would look equally at home in a dining room or as a backdrop to a much larger commercial space. Imagine this rustic tiled look in a restaurant or behind a bar. Wherever you choose to install this designer wallpaper, the panels in the roll are simple to hang on a pre-pasted wall for the best results.
Pictured: Marble Hexagon wallpaper
Do you desire marble wallpaper with a difference? If you've never thought of mixing designs before, this Marble Hexagon design shows just how striking the result can be. The brainchild of artist Aino Huhtaniemi, the original design was a pure marbled creation made from acrylic paints. Aino then broke it up to create a geometric design sourced from the original artwork. This is a marbled wallpaper that looks striking from a distance and arguably even better up close.
Ideal for modern spaces within the home and throughout many modern commercial spaces, Marble Hexagon is versatile, subtle, and demands to be noticed. The cool, calm colour scheme is perfectly relaxed and well suited to many locations. Paste the wall and hang the paper wherever you most want to make a statement.
Pictured: Parthenon wallpaper for walls
Wallpaper + Folk has created another muted yet eye-catching design option in this Parthenon marble wallpaper. Featuring marbled cream shades with striking touches of copper running throughout, it provides far more depth than initially seems to be the case.
Three panels are provided with each roll, so you have the option to create a wall mural if you wish, or to order more to cover an entire room or space. Since all the rolls match perfectly, there is minimal wastage. The design adds interest to a feature wall or serves as a touch of luxury in hotels, bars, and restaurants. A true all-round design that is easy to hang too, thanks to the 'paste the wall' process with no soaking to do beforehand.
Pictured: Heavy Metal wallpaper for walls
If you want an industrial look, whether at home or as a key feature in a commercial project, this Heavy Metal marble wallpaper for walls could be the option you're looking for. Darker and bolder than many other marble-led designs, this one is based on rustic slate tiles with a weathered and vintage finish. Seen from a distance, they are sure to fool anyone into thinking they are looking at an expensive tiled expanse of wall.
This Wallpaper + Folk design is available in wallpaper rolls created using fibres from sustainable sources. Digitally printed to ensure the finest possible finish, you can hang the paper on pre-pasted walls. The perfect choice for hotels, restaurants, offices, and many other commercial projects, it would also work well in certain rooms at home where you want to make a big impression.
Pictured: Savannah wallpaper for walls
If you think you have seen all the possible permutations of marbled wallpaper, think again. This Savannah design comes from Wallpaper + Folk and is one of several marble wallpaper options they have created. Inspired by stones and the various fault lines they sometimes exhibit, you almost feel as if you are looking at a large stone shot through by such faults.
You won't find fault in hanging this wallpaper anywhere though. The designer wallpaper comes in 10m rolls and has a repeat length of 50cm. It is created with fibres from sustainable sources and is free from glass fibres and PVC. This is a luxury wallpaper you can hang with confidence in your home or as a key part of any commercial project. From a hotel room to a restaurant, it creates a focal point for any design choices.
Pictured: Neural wallpaper for walls
You wouldn't think a scientific approach would work when creating a marble wallpaper design. It does here, though, thanks to an innovative approach taken by the artist Luke Evans. Known for his prowess in the experimental art world, Luke started with images of brain tissue taken from cows. After enhancement on film, the result was this beautiful marbled wallpaper that no one would believe came from that source. A real talking point if ever there was one.
Even if no one learns of the source of the design, you can count on this Neural wallcovering being a firm talking point and relaxed backdrop for numerous commercial projects. The neutral design and colour palette ensure it also works well in the home.
Pictured: Sicilian Avenue wallpaper for walls
If you want to create an industrial appearance, perhaps for a large loft apartment or in an office or modern restaurant, this luxury wallpaper ensures you get the look you desire with minimal work. Concrete may seem an unlikely choice to inspire a marble wallpaper look, but this wallpaper design from Wallpaper + Folk proves how good the result can be.
The marbled appearance is complemented by different Sicilian tiles set into the concrete backdrop. Using a mix of understated and washed out colours, the tiles look all too real. This is the wallpaper to use in numerous industrial spaces where old meets new. If you want to create that look in a modern home, this wallpaper makes it easier than it has ever been before to do it in style.

Pictured: Terrazzo Amour Stone wallpaper
The Terrazzo look gives you an alternative to the usual marble wallpaper designs you've seen thus far. The background is designed in neutral shades of cream and tan, ensuring the paper would look superb in the room or location of your choice. Speckled with stone details painted by hand, the designer wallpaper from LEEMO marries skills in art and graphic design possessed by the artist.
This beautiful design is versatile because it looks stunning in small rooms where it is used as a wall mural. Yet it looks equally as fresh and inviting in large spaces such as modern office buildings, large restaurants, and cafes. Wherever you hang it, the neutral backdrop and stone-chipped additions make for a beautiful talking point.
With so many appealing looks to choose from, it is reassuring to know the right marble wallpaper is waiting to be discovered. Marble wallpaper is going to bring luxury to your home, why not try it for a powder room for a touch of glamour. There are many more versatile and diverse options to consider than you might think. From the striking to the understated, you merely need to browse the collection to find your ideal marble wallpaper.
Before making that choice, consider the appearance you are going for and where the wallpaper should be hung. Do you desire a subtle look to wake up to in your bedroom each morning? Perhaps an impressive modern take on marble is your aim for a restaurant or bar project. Whatever you go for, there are many assorted designs to consider. Which one is about to take pride of place in your home or become a key part of your commercial project?
Find your favourite! Explore the FEATHR marble wallpaper & wall mural collections.