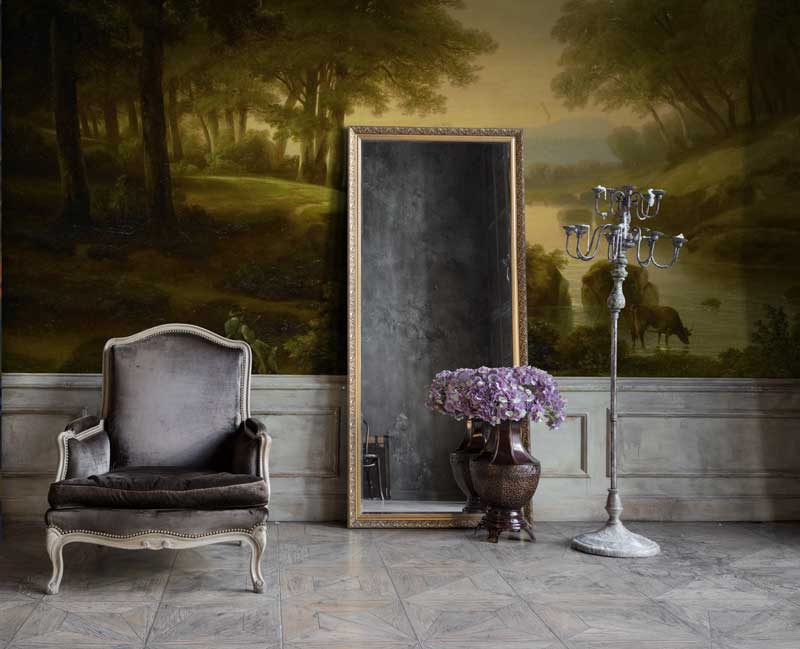 Is there a better way to introduce some natural charm to your room than with tree and forest wall murals and wallpapers? And we are not talking about the same birch tree trunks that you see everywhere – think of a large scale of moods ranging from calm and romantic bedroom wallpapers to energizing kids and nursery wallpapers.  Which one of these is your favourite wallpaper?
Monet Tree wall mural is a perfect design for everyone looking to introduce a real artistic touch to any bedroom or living room. The scenery in the wall mural creates a calm mysterious mood. Blue in the wall mural communicates a sense of trust and loyalty, greens convey optimism and the light browns create a relaxing feel to your room.
Raindrops forest wall mural is a handpainted wallcovering by a talented abstract artist Tamara Piilola. Her work portraits imaginary landscapes and magical experiences with nature. The colourful raindrops create intriguing details whilst the beautifully painted trees make this forest wall mural an easy to decorate with. Raindrops is offered as a bespoke wall mural and as a wallpaper roll.
Watercolour forest wall mural Zephyr is a beautifully crafted abstract wallcovering. Its brown and grey trees offer a softer alternative for geometric stripy wallpapers. As most of FEATHR wallpapers this tree wall mural comes in several colours to choose from.
See more Zephyr tree wall mural colour options and images
Kids tree wallpaper Sketchy Trees entertains and inspires little minds to explore the routes climbing up this imaginative tree wallpaper. Created by an amazingly talented designer Al Wrath this tree wallpaper is like no other kids forest wallpaper out there.
A tropical jungle forest wall mural Paradise Lost will stop any bypasser on their feet. The vintage jungle wall mural is adventurous yet the green colour creates a relaxing mood. This is a perfect wallmural for anyone looking for a unique forest wallcovering and it can be used in living rooms, hallways, kids rooms and bedrooms.
Dramatic yet subtle, the Amazonia forest wall mural is set deep in the Amazon Jungle. If you are looking for a tree wallcovering but would like to keep the colour palette to a minimum, the new forest wall mural series from Astër could be just what you have been looking for.
Are you wondering how these wonderful tree and forest wall murals and wallpapers would look in your own room? If you'd like to see any of the FEATHR wallpapers or wallmurals on your wall you can use our FREE room mock up service. Watch the video to see how it works.
Japanese Ink Blossoms Tree wall mural is a hand painted illustration of the spring's first blossom. The tree wall mural comes in two subtle colour ways: the blue tree is a dreamlike representation and the brown vintage wall mural creates an earthy and natural athmosphere. We see this wall mural complementing any bedrooms, dining rooms or living rooms.
Oslo forest wall mural takes the viewer straight to the misty Scandinavian forest. The soft features and the abstract treeline makes this wall mural an easy choice for anyone who is looking for a calm bedroom wallpaper. We think this forest wall mural would also work magic in bathrooms – imagine getting lost in the never ending scenery whilst relaxing in a warm bubble bath.
See more Oslo forest wall mural colour variants and images. You might also like the Vintage Wood forest wall paper.