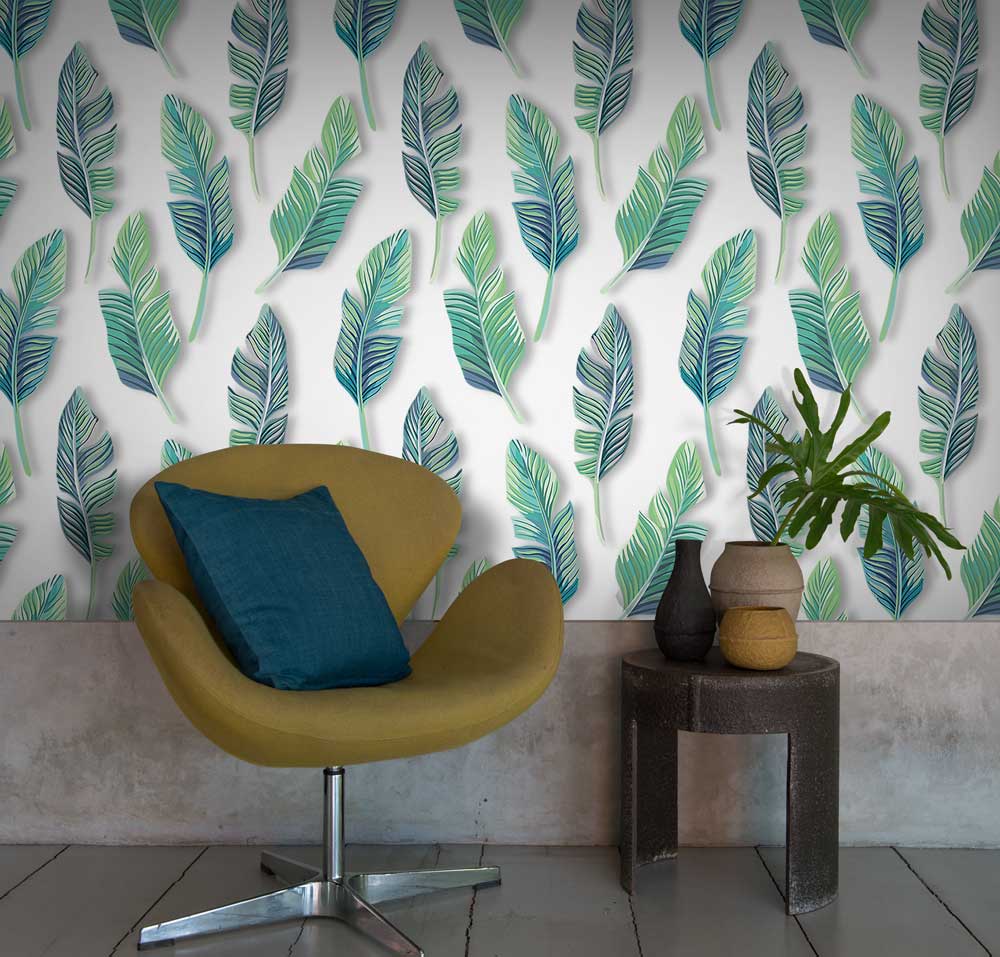 Tropical wallpapers and prints are an easy way to brighten up any contemporary home. Forget background wallpaper, these bold, colourful designs are meant to make a statement. From jungle hunts featuring wild animals and creatures, to hand-painted exotic birds, to oversized banana and palm leaves, discover 16 of the best tropical wallpapers below.
La Cueillette wallpaper, FEATHR
This stunning tropical wallpaper by French artist Claire de Quenetain features a colourful array of exotic birds, flying in a free-moving formation.
Coral Reef I Wallpaper, FEATHR
A bold, contemporary design full of tropical colours, a psychedelic take on an underwater theme.
Flamingo Conga wallpaper, FEATHR
This quirky flamingo wallpaper comes in a range of colours, from bold to subtle. Perfect for decorating a children's room, or doing the conga indoors at a tropical-themed party. You choose.
Bamboo wallpaper by Wallpaper + Wow
The classic green and white colours of this bamboo wallpaper offer a minimalistic take on the jungle wallpaper trend.
A New Ornate wallpaper, FEATHR
This colourful tropical wallpaper is perfect for breathing life into any room. In a range of colours that reflect the changing seasons, you can get that holiday feeling any time of year.
Palmeral wallpaper, House of Hackney
This bold, dark wallpaper features a steamy jungle hunt illustrated in artist Marcos Navarro's distinctive style.
Monochrome Jungle wallpaper, FEATHR
This cool monochrome wallpaper demands a closer look: at second glance you can see wildlife and insects hiding amongst the rainforest leaves.
Banana Tree wallpaper, Wallpaper + Wow
This bright tropical print makes a statement, especially when hung on a feature wall in a room with lots of light.
Coral Reef wallpaper, FEATHR
A maximalist design that commands attention. This psychedelic take on a coral reef showcases the artist's attention to detail, creating a world to lose yourself in.
Jungle Leaf wallpaper by Wallpaper + Wow
This funky tropical wallpaper featuring banana leaves is full of life and energy – a great backdrop to a modern living room.
Boy Kim wallpaper, FEATHR
A beautiful tropical wallpaper with a summery, nostalgic feeling. The hand painted, watercolour wallpaper expresses the fleeting sentiment of youth in a modest and quiet way.
Tropical Flamingo wallpaper, Wallpaper + Wow
An elegant take on tropical wallpaper, these hand-painted watercolour flamingos and hibiscus flowers transport you to a far away desert island.
Glam Tropical wallpaper, FEATHR
This glamorous, contemporary wallpaper features hummingbirds, moths and more pineapples! The tropical colours of the design give the wallpaper a feminine touch.
Vintage Jungle wall mural, La Feature
A vintage style jungle wallpaper in an industrial setting. The original artwork was taken from an early 20th century book.
Persecution wallpaper, FEATHR
This contemporary wallpaper illustrates a steamy jungle hunt. The quirky, illustrative style of Basque artist Marcos Navarro gives the intense scene a playful feel.
Dark Jungle Bird Wallpaper by Wallpaper + Wow
This elegant, contemporary design features hand painted peacocks nestled in the trees. An exotic wallpaper with a mysterious edge.
Discover our full range of modern wallpapers, designer fabrics and unique cushions.
Tropical Interiors | 9 ways to catch jungle fever