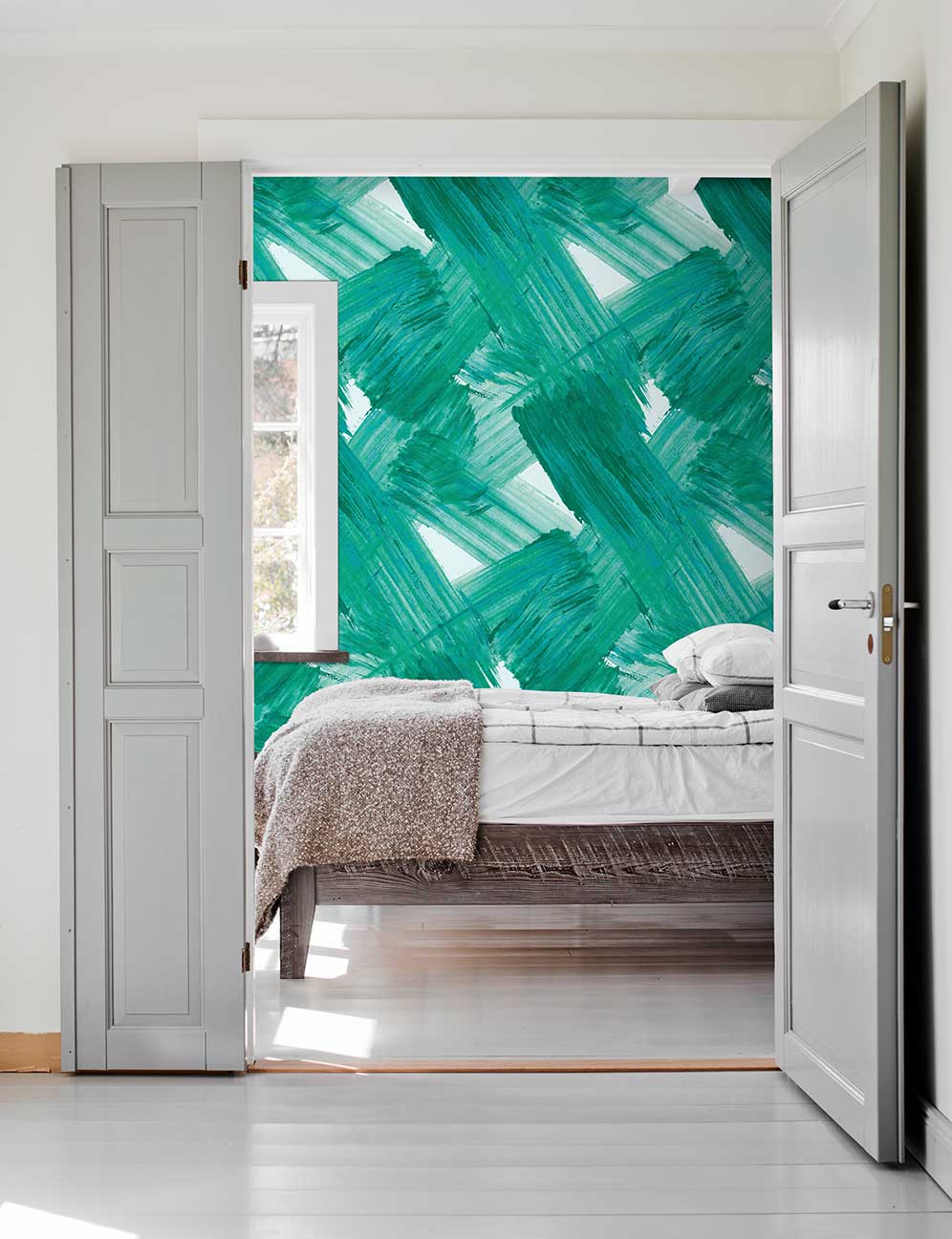 Make an impact with an abstract wallpaper feature wall. Our varied range of abstract wallpaper and wall murals are a great way to introduce some contemporary style into your home. From bold, dramatic designs to soft watercolour wall murals, our collection is a fresh selection of styles that will look great in any home.
A beautiful abstract watercolour wallpaper in soft muted pastel shades. This stunning design was originally an artwork by Kiki Slaughter. It looks great as a feature wall in a shabby chic interior.
Dreamboat wallpaper by Kiki Slaughter for FEATHR
An elegant design with a luxurious look, Marble Dream wallpaper looks just like real marble. The subtle blue cream and pink colours give this faux surface wallpaper a sophisticated feel.
Marble Dream wallpaper by Wallpaper + Folk for FEATHR
Be bold with the Dreamy mural by artist Clara Berta. This artistic design makes an impact on any feature wall and looks great with minimalistic Scandinavian style furniture. Searching for a statement art piece for your home? Look no further.
Dreamy wall mural by Clara Berta for FEATHR
This elegant marble wallpaper adds a little luxury to your home. The experimental piece has a biological backstory: the was the result of cow brains shot by a microscopic lense. The unique design comes in a variety of colours for sophisticated interiors.
Neural wallpaper by Luke Evans for FEATHR
This cool abstract wall mural has a holiday glow – the watercolour minimalist design was inspired by the famous stretch of beach in front of Los Angeles. The wall mural has a vintage hue with a calming feel.
Venice Beach wall mural by La Feature for FEATHR
A stunning, paint effect wallpaper with a shabby chic feel. Snowfall in Spring is a great bathroom wallpaper or bedroom feature wall. The abstract brushmarks look like snow on frosted window panes.
Snowfall in Spring wallpaper by Wallpaper + Folk for FEATHR
This stunning abstract wallpaper mural comes in organic blue, green and brown colours, resulting in a subtle ombre effect. Bring the outdoors in with this watercolour design, and feel the benefits of being in nature from the comfort of your home.
Morning Dew wall mural by La Feature for FEATHR
An urban abstract wallpaper with a touch of luxury, Shimmer Stripe wallpaper is perfect for industrial style interiors. The gold on concrete is both sophisticated and understated.
Shimmer Stripe wallpaper by Wallpaper + Folk for FEATHR
A stunning nature-inspired wallpaper by artist Teija Vartianen, Baltic Sea comes in a range of stunning colours for different interiors, including soft pastels and cool monochromes.
Baltic Sea wallpaper by Teija Vartianen for FEATHR. Image credit: Tawni Peterson @alchemy.interiors
An expressive painterly design by artist Aoi Yoshizawa. This bold abstract wallpaper adds drama to a bedroom or living room. Available in a rainbow of shades, Plato works with everything from minimalist to maximalist interior designs.
Plato wallpaper by Aoi Yoshizawa for FEATHR
Discover our full range of designer wallpapers, luxury fabrics and abstract cushions.
Abstract wallpapers for a dreamy bedroom