Decorating your child's bedroom may just be one of the biggest home decorating challenges of all. If you're creating a nursery, it's hard to know where to begin. You don't even know your child's character yet. Finding the right kids' wallpaper design is a challenge, for sure.
Fortunately, there are plenty of characterful wallpapers you can use as an inspirational starting point. Nursery wallpaper and kids' wallpaper ideas come in all kinds of designs. One of the following wallpaper or mural ideas would form the base for a new room for your little one. Once you have the paper, you'll find the rest of the design process is far easier to manage.
So, allow us to help you find that wallpaper or wall mural today. We have over 20 stunning recommendations for you here. Which one will catch your eye most of all?
GREAT BEAR, LITTLE LION CREAM nursery wallpaper mural 
>> See more Great Bear, Little Lion  cream starry night wall mural images
This cream starry night wall mural is perfect for young children who always gaze up at the night sky with fascination. There are things to learn in this wallpaper mural, not least the constellations of Great Bear, Little Lion, and Hercules.
The lack of color means you can go to town on the other décor too, making this an ideal choice for boys and girls of all ages.
RASPBERRY POP kids' wallpaper
>> See more Raspberry Pop  colourful raspberry wallpaper images
This colorful raspberry wallpaper is a delight. Simple yet fun-loving, just like your kids, you'll soon have some brightness in the room. Perfect for a nursery or child's bedroom, the paper has much more detail in those raspberries than you'd think.
They just might make your child hungry though!
POM POM children's wallpaper
>> See more Pom Pom  colourful watercolour kids wallpaper images
If you are hunting for a colorful watercolor kids' wallpaper that is busy with action wherever you look, this Pom Pom design certainly fits that idea. The Scandinavian design is filled with delight, with quirky characters to spot among the plants and flowers. Could this be a game on a wall? Almost!
And you can dress the room with plain white or cream furniture and soft furnishings for ease, too.
KOALA NAP WHITE nursery wallpaper mural 
>> See more Koala Nap  childrens animal wall mural images
How about a children's animal wall mural to make a striking impression in your nursery? You cannot go bigger than this kid's room wallpaper mural, showing a sleepy koala settling down to sleep. Perhaps it will supply inspiration for your young one… we can only hope.
The Scandinavian design is powerful in its simplicity, with a calming look and white-styled finish. It may just make you sleepy too.
BANANA DROP kids' wallpaper 
>> See more Banana Drop  terracotta banana wallpaper images
What about a terracotta banana wallpaper to create a quirky space for your child instead? If they are a little older and starting to show a fun-loving character, this kids' wallpaper design might just fit the bill. The pop art style is amusing and striking in one, giving any kid's bedroom a lift. The screen printing used to create the design is sure to bring an eye-catching finish to the décor.
WHERE THEY BELONG kids' wallpaper 
>> See more Where They Belong  vintage tropical toile de jouy wallpaper images
From a striking wallpaper filled with bananas to a vintage tropical toile de jouy wallpaper… this design hides various animals within its realms. Head to the tropics with your child thanks to this red and blue-toned kids' wallpaper.
Also available in a striped blue, grey, vintage, and brown tones, you can select whichever finish works best for your baby or young child. Go animal spotting every bedtime!
POLAIRE BLUE nursery wall mural
>> See more Polaire Blue  dark blue star wallpaper mural images
Explore a dark blue star wallpaper mural in this Polaire Blue design, taking you into the outer reaches of space every bedtime. A fascinating take on the stars and constellations, this kid's room wallpaper mural takes you through the night sky to soar past Cancer, Cerbere, Polaire, and La Chevre among others.
Which formations can you teach your child about tonight?
WOOF WALL nursery wallpaper
>> See more Woof Wall  children's dog pattern wallpaper images
If your child dreams of being a vet when they grow up, this dog-themed kids' wallpaper design is just the ticket. It features many different dog breeds along with their names, all shown in glorious color. Perfect for any animal-themed bedroom or nursery, boys and girls alike will delight in this charming paper. Can they spot the family dog there or will they see one they fall in love with?.
ALPHABET kids' wallpaper
>> See more Alphabet  funky kids alphabet wallpaper images
Can wallpaper really be a learning experience? It can, especially if you go for this funky kids' alphabet wallpaper. It is a minimalist take on the alphabet, so it will last far longer than a basic alphabetical kids' wallpaper design.
The simplistic approach is filled with assorted colors. While you can spot letters there, the striking design is the key element to bring any nursery or kid's room alive.
DAYDREAMING BRONZE kids' wallpaper
>> See more Daydreaming  modern childrens fox wallpaper images
How about opting for a modern children's fox wallpaper? This one is available in several colors, but we have selected the bronze option here. It couples the bronze backdrop with a cool blue for each of the foxes in view.
Curled up to sleep, sitting up and waking, looking up at the sky… this is the perfect way to inspire your child to get to sleep, as they follow the day and night of the fox.
JUNGLE KINGDOM GREY kids' wallpaper mural
>> See more Jungle Kingdom  tropical elephant wallpaper mural images
Are you hunting for a nursery wallpaper mural that will last as your child grows older and more curious? This tropical elephant wallpaper mural could be just the solution. Follow the elephant as it makes its way through the tropics with a bird on hand to follow its journey.
Filled with glorious tropical plants and leaves, it's difficult to pull your eyes away. Ideal to mix with plain furnishings throughout a nursery or bedroom setting.
LUNAR GEMS PEACH kids' wallpaper
>> See more Lunar Gems  elegant kids pattern wallpaper images
This elegant kid's pattern wallpaper brings a more refined edge to your child's bedroom. Inspired by a tribal setting, we like the geometric format used throughout this paper.
The calming tones are perfect for a bedroom setting, while providing lots of detail for curious kids to look more closely at during the day. Perfect for an artistic child, perhaps?
COCKATOO STRIPE kids' wallpaper mural
>> See more Cockatoo Stripe  kids bird stripe wall mural images
If birds are your child's favorite, this kids' bird stripe wall mural is unmissable. Instead of offering many smaller birds flying across the paper, we have just one here in giant form. The striped design is used for fun here, as the cockatoo peeps around one stripe to say hello.
The fun and engaging design is beautifully painted and accurately reflects the original from Outi Virtanen.
BLUEBERRY BLUSH kids' wallpaper
>> See more Blueberry Blush  pink blueberry wallpaper images
We've had some raspberries already, so how about a pink blueberry wallpaper to change things up a bit? The pale pink background is the perfect counterpoint to the blueberries dotted around in this design.
This is another simple yet striking wallpaper that would be perfect in a nursery or kid's bedroom. The pop art take on this design means the wallpaper looks good enough to eat… although we don't recommend it!.
THE VISIBLE HEAVENS VINTAGE WHITE kids' wallpaper mural
>> See more The Visible Heavens  tan star constellation wallpaper mural images
If a kid's room wallpaper mural is on your list to buy, this stunning tan star constellation wallpaper mural would be hard to say no to. The visible heavens appear in one beautiful design, ideal to display as a mural on any bedroom wall.
Hang it behind your child's bed or on the opposite wall, so they can marvel at the stars every night as they go to sleep.
PALM SPRINGS kids' wallpaper
>> See more Palm Springs  funky flamingo tropical wallpaper images
Let's move on now to a funky flamingo tropical wallpaper, where the flamingoes are joined by exotic plants in circular areas against a pale pink background. Spot the pineapples among the birds here, as your child looks for more flamingoes pointing in each direction.
Heading to Palm Springs at bedtime is easier than you think when you choose this charming kids' wallpaper.
WILD WILD WEST kids' wallpaper
>> See more Wild Wild West kids wallpaper images
The Wild West kids' wallpaper introduces many animals and birds found in that area. No doubt your child will have their favorite, but the paper supplies the perfect talking point before bed if they don't want a bedtime story.
Or perhaps they could make up their own?
SKETCHY TREES RED kids' wallpaper
>> See more Sketchy Trees fun kids tree wallpaper images
From educational animals to fun kids' tree wallpaper now, as we move on to this minimalist wallpaper filled with hand-drawn trees and branches. Can you spot the explorers climbing among the branches as you look across the paper?
Ideal for any room with brightly colored furniture that needs a calmer background.
DREAMSCAPE AQUA MIST kids' wallpaper
>> See more Dreamscapre Aqua quirky Scandinavian kids wallpaper images
Time now to move on to a quirky Scandinavian kids' wallpaper that shows a glorious mix of color. With rocks, streams, and waterfalls all seen within, where could your child escape to as they drift off to sleep each night?
The Dreamscape name is certainly appropriate in this case.
PENGUIN OMBRE nursery wallpaper mural
>> See more Penguin Ombre  kids penguin ombre wall mural images
If you like the idea of a kids' room wallpaper mural to make a striking impression, how about this kids' penguin ombre wall mural? The cute penguin can watch over your child's cot or bed each night, ready to help them drift off to sleep (we hope).
The calming color scheme in this nursery wallpaper mural is perfect to complement any design you care to go for in that room.
HOUSE OF NATURE DUSK kids' wallpaper
>> See more House of Nature Dusk kids animal nature wallpaper images
If you'd like to bring nature into the room, this kids' animal nature wallpaper could be the perfect choice. Filled with trees, animals, and creatures at dusk, it imagines the night-time routines of these animals.
There isn't too much detail in this one, but that only serves to inspire your young child to think about and add their own in their mind's eye.
ANIMAL KINGDOM kids' wallpaper mural 
>> See more Animal Kingdom vintage animal wall mural images
For older children looking for something more dramatic, this vintage animal wall mural certainly brings a flood of drama into any bedroom. Elephants, tigers, monkeys, and birds all contribute to the busy nature of this design.
It is hard to resist the striking imagery in this design, taken from the original 1910 illustration. We cannot think of a busier nor more striking mural than this.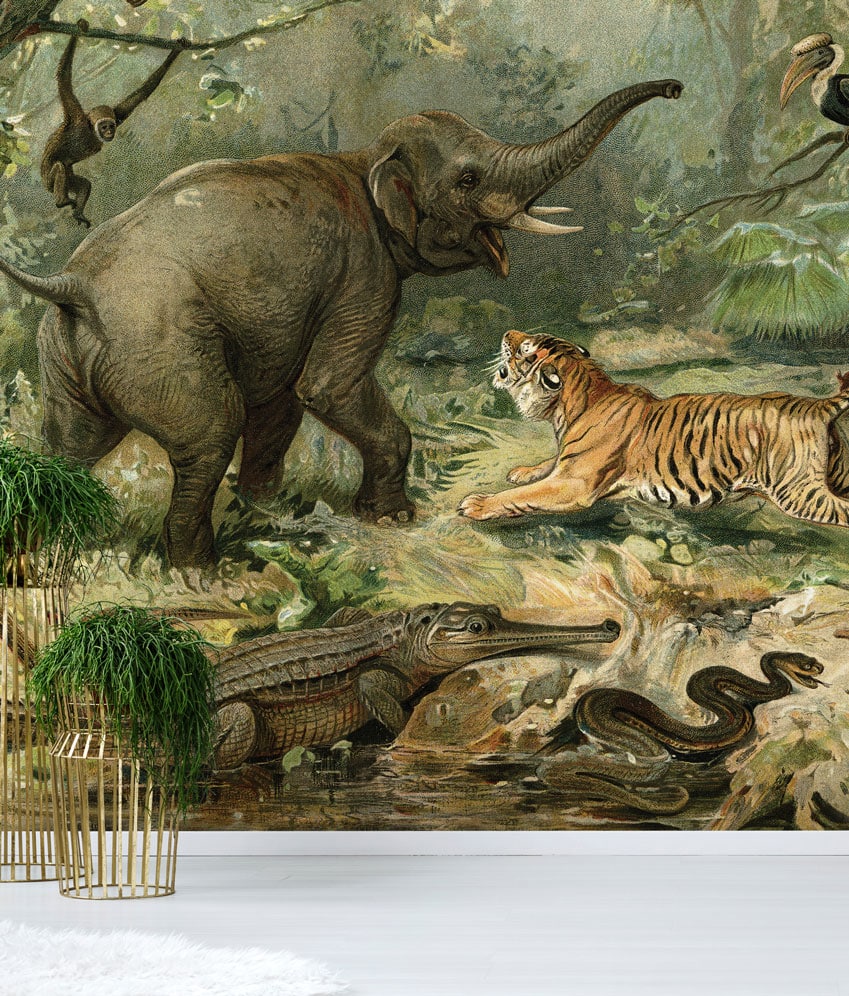 PEONIES kids' wallpaper mural 
>> See more Peonies  fun paper flower wall mural images
Whenever we see this kids' room wall mural, we cannot help but think those flowers are in 3D – real origami flowers, perhaps. This fun paper flower wall mural certainly brings some creativity into your child's bedroom and qualifies as one of our favorite kid's room wallpaper murals.
Offering far more detail than you might think, it has lots of calming shades and delivers a beautiful backdrop to any nursery or bedroom.
DOG PARK YELLOW kids' wallpaper 
>> See more Dog Park  funky cool dog wallpaper images
Let's finish our collection of kids' wallpaper and nursery wallpaper murals with this funky cool dog wallpaper design. Just look at all the different breeds heading out for their daily walk in this design.
The dark backdrop means all the dogs pop out along the paths as they wind their way through the design. Some pups are more playful than others, but they're all recognizable, from poodles to dalmatians. How many can your child identify?
Choosing the best kids' wallpaper for your nursery or bedroom
You can see now that there are plenty of kids murals and wallpapers to choose from. Some are far more understated than others, while some aim to stand out in a fun and funky way.
Decorating a nursery allows you to think about who your baby might become. Decorating a child's bedroom lets you use your knowledge so far to help you find the best paper to suit their character.
Whichever design you choose, we have something for you in our vast collection of beautiful wallpapers and wall murals. You – and perhaps your child too – need only find the most inspiring one for your home to create a new haven for peaceful sleep each night.