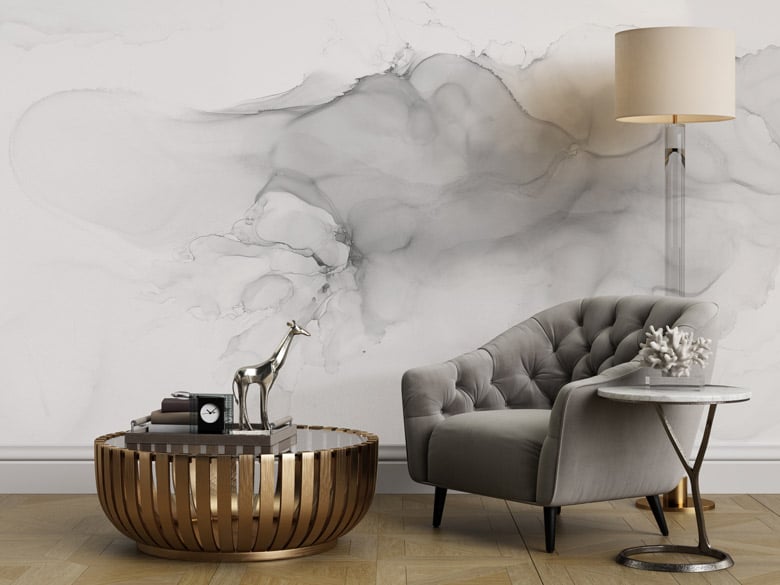 Free room visualisation service 
You have seen that amazing designer wallpaper but wondering how that would look in your room? We are here to help! Our room visualisation tool lets you upload your room image and see all our designs on your wall. This is a great way to try the wallpapers on your wall before making the final choice.
If you are unsure where to start our team is here to help with your interior design questions. You can email us a picture of your room and we will come back with some wallpaper ideas for your space – without any designer fees.
Easy to hang wallpaper
Our wallpaper material is easy-up wallpaper. Long gone are the messy days when you had to soak the paper. Our non-woven wallpaper material is dimensionally stable and won't move or shrink during the installation.
Apply a generous, even layer of wallpaper glue on the wall and hang the dry wallpaper drops on top. You will have time to adjust the position to ensure perfectly matching seams before the glue dries. Just ensure you use paste-the-wall glue, also known as glue for non-woven wallpaper. Paste-the-paper and all purpose glues are not suitable.
Our wall murals come in numbered 50cm wide drops for easy hanging.
For renters or anyone looking for a removable wallpaper we also offer a peel-and-stick material. Just remove the backing and attach the wallpaper drops on the wall. Then sit back and enjoy your new artistic walls.
Wallpaper for homes and commercial projects
All our designer wallpapers are available on a range of wallcovering materials suited for any needs. We offer high quality non-woven materials for home owners and low traffic commercial projects. For hospitality projects that require hard wearing wallcovering materials we have a range of contract grade vinyls and Type II wallcoverings.
Our metallic wallpaper materials offer a luxurious look for high end residential and commercial projects. Our textile wallcovering is a perfect choice for anyone looking for a high end feel combined with contract grade durability.
Our removable wallpaper is a peel and stick wallcovering – the perfect choice for renters and anyone looking for an option that is easy to update.
Kitchen and bathroom wallpaper
Our wallpaper material is breathable – it won't lock in the moist so it is a great choice for bathroom wallpaper. If you are looking for an added protection we recommend Decorator's Varnish. It provides and extra protective layer against stains and the odd water spashes.
Our vinyl and metallic wallpaper materials are washable, so they are also great choices for kitchen and bathroom wallpapers. Hard wearing and anti-microbial, the vinyl wallcovering provides a durable surface for kitchens and bathrooms.
Peace of mind 
We offer a 30 day period for you to consider your purchase. If you change your mind for any reason you can send the unused wallpaper back to us and receive a full refund for your order. We have return addresses in the UK, USA, Finland and France.