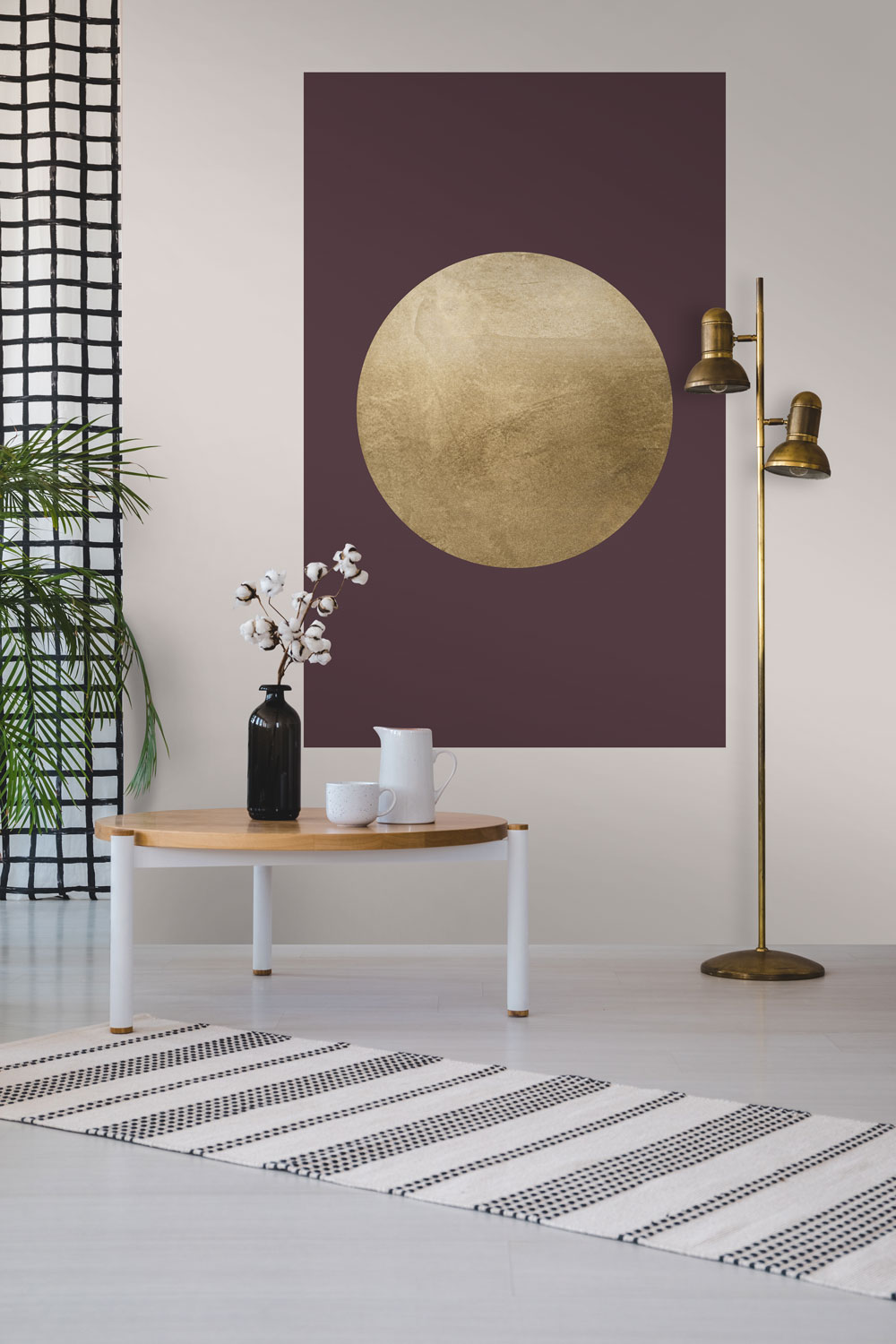 L E E M O – aka Djaheda Richers – is a German artist and designer.  She's truly multi-talented, with her portfolio ranging across pop art, abstract and figurative work.  We're delighted to be collaborating with her in bringing her first wallpaper collection to market.  Her collection includes 15 artworks now available as wallpaper, including the impressive Kirungu wall mural and charming ombre tones of the Sand wall mural.  Here we've picked out 7 our favourites: but explore the collection and discover your own.
L E E M O at work in her studio
>> Shop this abstract wallpaper
We think some of L E E M O's most beautiful work is when she works in abstraction.  The combination of restraint and freedom can be seen in the juxtaposition of gestural brush strokes and clever composition.  Euphoria is an excellent example of this, with brush strokes seemingly flying up with the wall with constrained abandon.  Euphoria particulary is a great way to use an abstract wallpaper to frame a piece of furniture or create a focal point in a room.
>> Shop this ombre wall mural
For a subtle and gentle aesthetic, the Sand wall mural is an excellent pick.  Featuring an ombre wash across a cream background, it has texture and colour to add interest but not so much as to take away from surrounding furnishings.  Ombre wall murals are a great way to create transitions between different colour palettes in rooms and – as Sand comes in three colours (Mist, Sage and Dawn) – it's an easy wall mural to select for a wide range of interiors projects.
>> Shop this blue tropical wall mural
Go large and go glam!  That's the message shouted out by the Kirungu wall mural.  Taking the tropical wallpaper trend to its most impressive visual impact, Kirungu features oversized banana plant leaves layered across a soft grey background.  This is a high impact centrepiece design, ideal as an impressive feature wall.
>> Shop this cream geometric wallpaper
The Horizon wall mural is something unique in the geometric wallpaper category.  It's more an art installation than a wallpaper, with its solid shapes recalling the works of the likes of Rothko.  The use of simple form, deep colours and texture makes lends this wall mural a meditative air, perfect for framing part of a room or creating a focal point.
>> Shop this funky grey wallpaper
Playfulness is a trademark of L E E M O's work, which you can see in many of her designs in our collection – such as Banana Drop and Raspberry Pop. One of our favourites is the I See U grey wallpaper.  Cleverly, L E E M O repeats the same motif of a hand-drawn eye with small variations, creating an energetic pop art wallpaper.
>> Shop this brown abstract wall mural
The Neven abstract wall mural shows L E E M O working in gestural abstraction.  The splashes and slashes of paint across the canvas capture the energy of artist's work.  But captured within this energy is a calmness and meditative mood that makes this an easy wall mural to build a room around.
>> Shop this concrete palm wallpaper mural
Another piece by L E E M O is this simple and fresh take on the palm leaf wallpaper trend.  Large palm leaves treated with a vintage feel are set against a textured concrete background.  Subtle, original and modern, this is a great piece to use to frame a bed in a bedroom or sofa in a living room.
>> Discover the full L E E M O wallpaper collection