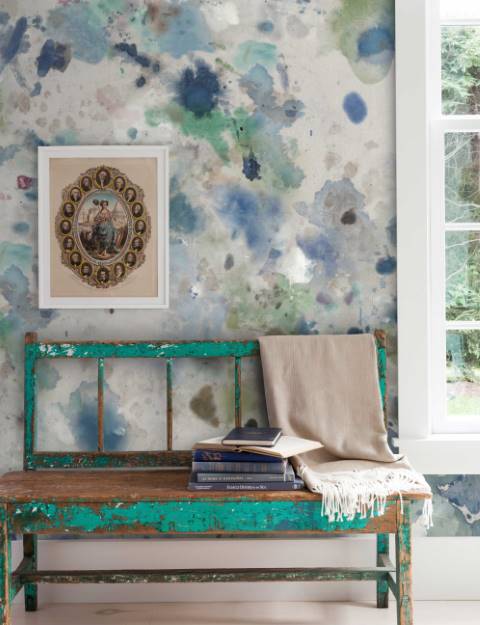 Give your home a splash of colour with watercolor wallpapers and wall murals. Our diverse range of designs includes an array of colours, from bold brights to soft pastel shades.
A beautiful, calming abstract watercolor wall mural in soft shades of blue, featuring wispy clouds drifting across the sky.
Drifting Away wall mural by La Feature for FEATHR
Inspired by the sun setting over the savannah in Africa, this ombre wall mural is perfect for a romantic style bedroom or living room.
Serengeti Sunset wall mural by La Feature for FEATHR
An abstract watercolor wall mural featuring an artist's impression of a lake. The texture represents the canvas the artwork was originally painted on.
Lake Champlain wall mural by La Feature for FEATHR
A romantic watercolor wallpaper mural featuring wild flowers blossoming in a hazy summer meadow.
An abstract wallpaper featuring a stunning paint splatter effect surface. This design was inspired by beauty found in the remote corners of the Hebrides islands.
Machair wallpaper by Albaquirky for FEATHR
The abstract wash of NYE was created by allowing paints to mix slowly together on a tilted canvas.
NYE wallpaper by Anna Alanko for FEATHR
Aquarelles painted onto wet paper created this abstract wallpaper capturing the beauty and fragility of the sea.
Baltic sea wallpaper by Teija Vartiainen for FEATHR
This watercolor wallpaper is an abstract take on the movement of two birds flying in the air. The design is inspired by the lightness, the freshness and the energy of flying.
L'Envol wallpaper by Claire de Quénetain for FEATHR
The famous stretch of beach in front of Los Angeles is represented in abstract style in this minimal, refreshing wall mural.
Venice Beach wall mural by La Feature for FEATHR
A subtle and relaxing watercolour wall mural, ideal for adding a splash of colour to modern living rooms and bedrooms.
Riviera wall mural by La Feature for FEATHR
A dramatic cloud wall mural featuring billowing clouds, layered with texture to create a modern, artistic feature wall.
This nature-inspired wall mural captures a misty view across a green forest and blue sky. The scene was originally hand painted with watercolors.
Abstract Forest wall mural by La Feature for FEATHR
The organic shapes in this watercolor wall mural draw on the ocean waves, a favourite source of inspiration for artist Clara Berta. The multiple shades of blues and grey capture the energy, power and beauty of that environment.
Dreamy wall mural by Clara Berta for FEATHR
This abstract watercolor wallpaper was painted on canvas and demonstrates the artist's process of pouring, scraping, layering and otherwise manipulating paint on the canvas.
Dreamboat wallpaper by Kiki Slaughter for FEATHR
A cool watercolor wall mural capturing the beauty of a Nordic forest, in a choice of seasons to suit your interior.
Stag Forest wall mural by La Feature for FEATHR
Discover our full range of luxury wall papers, beautiful fabrics and modern cushions.
Watercolour wallpapers for a dreamy bedroom