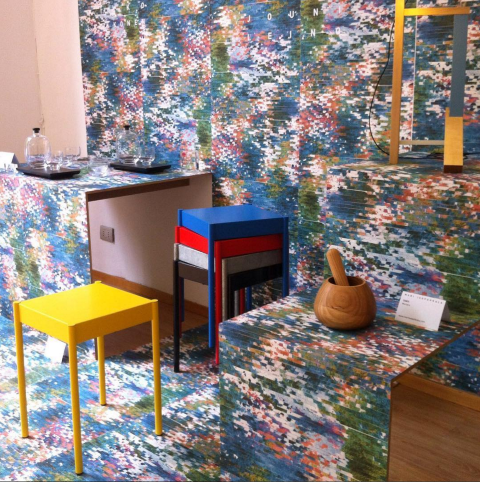 Salon del Mobile Milano is the world's largest and most acest show at which to discover new design.  So we're delighted to be showing there for the first time, in conjunction with Beacon Helsinki and alongside a host of other excellent Finnish design talent.
The piece we 've chosen to display is our wallpaper Water in Moss, by Heini Ruuskanen.  It's an intriguing, luxury wallpaper – it has a natural warmth, mixed with a hint of pixels and digital disruption.  It's the perfect piece to backdrop Beacon Helsinki's "Wild, weird and wonderful" theme, which reflects the Finnish relationship with nature – as strong for those in cities as those outside of them.
The exhibition design was created by Elina and Klaus Aalto, of the design duo Aalto+Aalto.
Our wallpaper Water is shown alongside Finnish design pieces including furniture, lighting objects, interior objects and jewellery – ranging from one-off pieces to products developed for prominent brands.
If you're in Milan for the show, then please swing by and see the work on display.  You'll find the 'Wild, Weird & Wonderful' at Via Maroncelli 12 20154, until 17th April.