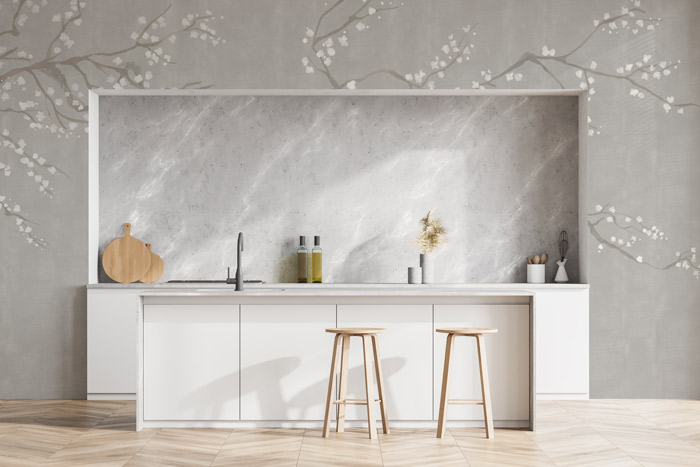 If you're looking to infuse colour, style and a good dose of modern art into your kitchen or dining room, it's time to think about kitchen wallpaper ideas.
They're possibly not your obvious first choice, but did you know that wallpaper and wall murals have made a show-stopping comeback in recent times, commanding much love media wide? And now this flourishing trend is something everyone wants a piece of.
Kitchen wallpaper, does that work?
In terms of design, most definitely yes. And it can work in a functional sense too. Some of the best kitchen wallpaper ideas are centred on practicality. Hardy types that stand up to the challenges posed by the most used room of the house are readily available. So when it comes to kitchen décor, there's really no need to stick with plain paint, or compromise on style with tiles.
When you think of wallpaper, it's good to try and open your mind. Don't think of it as 'just wallpaper'. Consider it a way of bringing art into your everyday life. And of sharing that art with those who come to your home.
Whether you take a subtle journey with a contemporary minimalist design, or go all-out bold and make a statement with a kitchen wallpaper feature wall, is entirely your call. Your ultimate choice should only be dictated by your imagination.
There is a huge range of funky wallpapers for kitchens, but you'll also find elegant designs too.
Do I need a special kind of wallpaper for my kitchen?
Here comes the practical bit.
Some wallpapers are ideal for any room of the house, providing there's good ventilation and the wallpaper is applied to a smooth rather than textured surface. But do check with your individual kitchen wallpaper supplier as to its suitability for a humid microclimate.
Generally for a kitchen, go for a water resistant type that can be cleaned easily with water. You'll not want to use chemicals on your kitchen wallpaper, but reality dictates that you'll need to wipe it down at some point. If you're going for kitchen splashback wallpaper, consider covering it with glass to give it a layer of protection.
Practicalities covered, it's time to share some of the coolest kitchen wallpaper ideas.
Inspiration time – our top kitchen wallpaper ideas
Colour collaboration
Choose a wallpaper that compliments the colour highlights of your kitchen cabinetry or worktops. The gold detailing of this brushed concrete grey kitchen wallpaper blends perfectly with the light wood worktop and cabinet handles.
Contrasting patterns
A mix and match approach to patterns and shapes can work well if you're looking to spark interest. This abstract graphic print kitchen wallpaper feature wall creates a striking contrast with the rounded lines of the light fittings and dining furniture.
Play on a theme
There are plenty of kitchen wallpaper ideas that will help you create a unique theme for your kitchen diner. This watercolour forest grey kitchen wallpaper has the power to alter the whole atmosphere of a room and whisk you away someplace else, with its glimpses of tall trees parting with their leaves on a blustery autumn day. See how it sits in harmony with the nature-inspired light fittings and dining furniture.
Create texture
The perfect kitchen splashback wallpaper, this warm marble design brings texture into the kitchen courtesy of its soft cream and copper highlights, and richly defined detail.
Go funky and flamboyant
There is lots of choice in funky wallpapers for kitchens, perfect for creating a kitchen wallpaper feature wall. If you tend to be flamboyant by nature, don't hold back. Whether it's a flock of flamingos wading amongst hibiscus flowers, or a tropical leaf green kitchen wallpaper creating a bold backdrop for your eating space, there is no reason why you shouldn't put your personality on show.
Top kitchen wallpaper tips
When it comes to decorating your kitchen with wall art, it really should be all about what makes your senses come to life. Whilst it's important not to let rules dictate how your cooking and dining space will ultimately look, there are a few sound tips you can follow to help you achieve the most visually appealing finish.
Feature wall
For example, when creating a kitchen wallpaper feature wall, especially if you're working with a small space or going for a super-bold print, try to stick to a single wall, or two at the outside. A single wall of art will actually create more of a wow-factor than an entire room covered in it.
Kitchen diner
If you have a kitchen diner to decorate, an approach that works really well is to zone out the eating and food preparation areas using different wallpapers. You could, for example, go for a brick wallpaper kitchen design to bring an urban feel to your cooking space, and then something relaxing for your dining area, perhaps a nature-inspired wall mural, or something ocean-themed.
Complimentary fabrics
Another great tip is to bring in fabrics that match or compliment your kitchen wallpaper ideas. Think soft furnishings, cushion covers and drapery, all perfectly blended with your chosen kitchen wall art to make the ultimate design statement.
Showcase your personality
Something that's important with interior design is integrity. The way you decorate your home should be true to you. If it's going to make you feel at home, then it's going to have to reflect your personality. So when you're looking at kitchen wallpaper ideas, think about the things you love, and search for something that fits. You may for example choose an animal wall mural, a beach-inspired wallpaper, or a wall covering that sings of nature. Whatever you go for, be sure to make it your own.
Looking for kitchen wallpaper ideas and inspiration?
Our mission at Feathr is to get more art into people's homes courtesy of unique, luxury modern wallpapers, wall murals and fabrics created by independent artists from across the world.
Why not use our visualizer to discover how your very own kitchen will look adorned with one of our wallpapers?
Looking for kitchen wallpaper inspiration? With our customer promise of excellent free design services, fast worldwide delivery, high-quality materials and top-rated customer service, and a commitment to protecting our environment, you are guaranteed to be delighted with a new wallpaper from Feathr.