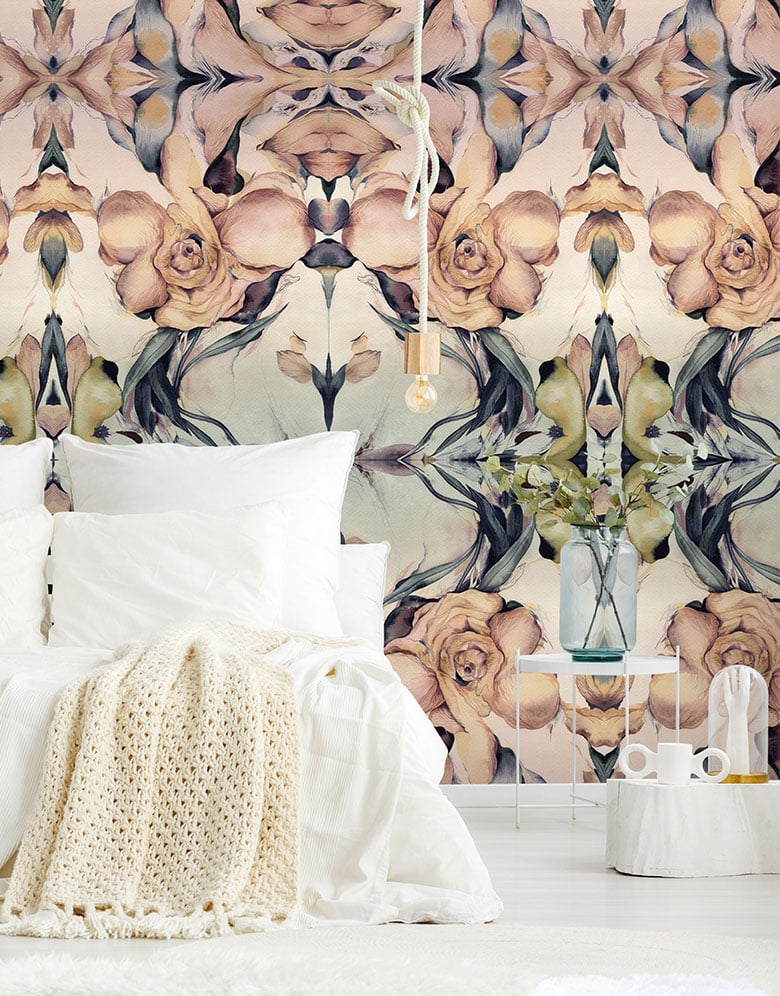 Have you ever thought about choosing a pink wallpaper? When you chose a colour for your new wallpaper, regardless of the room you are going to hang it in, is this a choice you would you go for? Let us surprise you here with our fresh take on pink wallpapers. A baby pink is a popular choice, so let's go beyond tradition and think about pastel pink wallpaper shades in different styles.
Which will you choose? Stick with us for a short while to discover some superb pink wallpaper recommendations and suggestions for interior décor you're going to love.
Transforming your home with pastel pink

 wallpaper
---
There are worlds that exist between pink and pastel pink… and you can explore those wonderful worlds within our various wallpaper and wall mural design range. That's the thing – you're free to find the ideal shade of pink that fits you. From flowers to birds and through to abstract shapes and complex watercolour designs, the style choices are amazing.
If you want to be bold, you can go for a shocking or electric pink wall mural that really stands out. Don't worry if that's not your thing though – you've also got many more subtle pastel pink wallpaper designs to sort through. This is the most important thing to be aware of; pink has become a sought-after colour in the world of wallpaper and interior design. Get on trend and think pink!

Image credit: Shutterstock/Jafara
>> See more Cherry Blossom Pink Cherry Blossom Wallpaper images
Which pink

 wallpaper style suits your space?
---
Different design aesthetics can define your space. From an abstract approach to those designs that leave you in no doubt about their story, you can choose from a surprising mix of styles! When you choose an abstract pink wallpaper it allows your mind to wonder.  Use your imagination as you interpret the design.  A pink wallpaper in a contemporary abstract style is a great choice for a feature wall to make an interior design statement without overpowering a space.
Or when you go more literal, the wallpaper tells the story and sets the tone of the room. These pastel pink wallpaper designs leave you in no doubt of what you're looking at. Would your room suit a pink floral design that is far larger than life? Some of our wallpaper designs come in multiple pink shades, from a rose gold wall mural with metallic embellishments to pastel pink wallpaper that uses the color to almost as a wash over the top of the design. Pink used as a background, pink used in the details of flowers, pink used for feathers or abstract elements… you choose.

Image credit: Shutterstock/NewAfrica
>> See more Arcadia Pink & Gold Vintage Peacock Wall Mural images
Making a statement with pastel pink

 wallpaper
---
One thing we have yet to cover is how these designs can fit into your home. Do you have a specific room in mind, the kitchen or even a nursery? There is a wallpaper or mural available to suit in every case. This is the perfect starting point, especially if you're not sure about which shade of pink to use. Wallpaper takes up a large share of any room, although of course you could just hang it on one wall and use a complementary paint colour for the rest of the room. This works well if you have a striking pink wall mural or wallpaper design, although it looks great with more muted tones of pink as well.
If you're going to combine a painted wall and wallpaper, choose a design that coordinates with those paint colours. By combining with those with those other shades – it will make the pink wallpaper 'pop' a little more.
If you're ready to decorate, strip out the room and stand back to view it. Note where the door and windows are, along with any immovable features. Is there a fireplace, chimney breast, or built-in cupboard? In a kitchen, you obviously need to think about the cabinets and whether you have only partial walls to cover or one or two with nothing much on them. Other rooms, such as a bedroom or nursery, are all the walls free to hang your wallpaper on? In this case, you need to think about whether to go for a pastel pink wall mural on one feature wall or to wallpaper the whole room.
>> See more Lost Garden Pink & White Romantic Floral Blossom Wall Mural images
Be surprised by the versatility of pink

 wallpaper
---
Size matters too, of course. Larger rooms accommodate a striking pink wall mural far more easily than smaller box rooms. A bathroom may be quite small, so you'd want to keep it light with lighter pink tones throughout the wallpaper or mural you choose. Some pink wallpaper designs have many other shades mixed in too. This helps when you're choosing items to decorate the room with – items you could always replace later if you fancy a change.
As we've seen, there is a huge range of design choices when choosing your perfect pink wallpaper. This means you can opt for a toned-down look or go wild and have a design based around shocking pink shades. Many people are surprised by the versatile nature of pastel pink wallpaper. That's why it fits so well in living rooms, dining rooms, and other practical and private areas of the home too. Pink wallpaper can even work in a bathroom!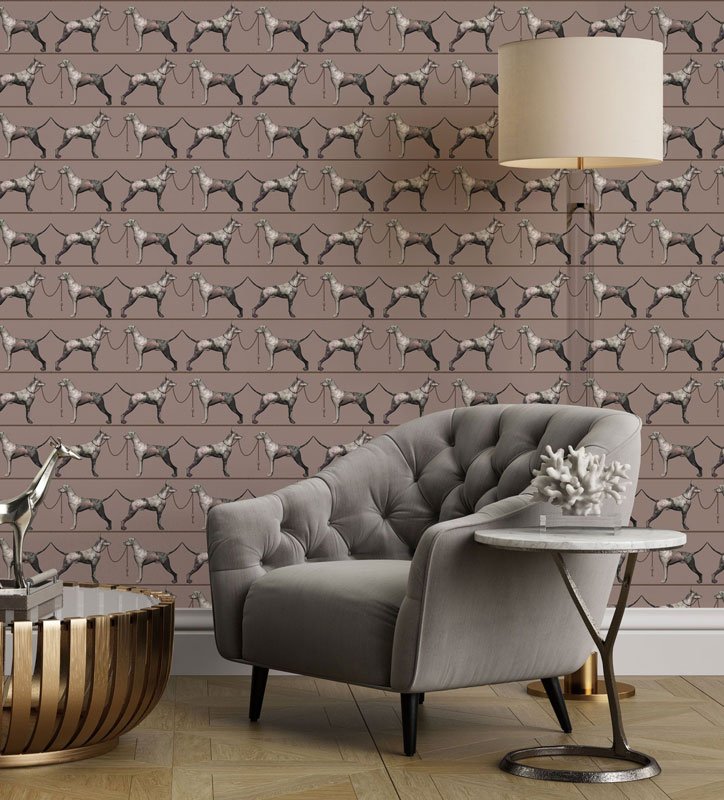 >> See more You Don't Find The Light by Avoiding the Darkness Pastel Pink Dog Wallpaper images
Read on to see more stunning pink wallpaper designs to create a wow interior design moment…
Archipelago light pink

 wallpaper
---
Archipelago is a beautiful pink abstract wallpaper design created by Teija Vartiainen. Her design aims to blur the borders between the inside world and what is outside. Seen here as a stunning living room wallpaper, it features crystalline textures running over the surface of an image of Finnish archipelago landscapes. Created using an innovative technique incorporating moist watercolour and liquid sugar or salt, this pink wallpaper blurs the lines between the outdoors and indoors and brings a gentle dappled aesthetic to a room.  
>> See more Archipelago Pink Beautiful Abstract Wallpaper images
Flower Obsession

 blush pink wallpaper
---
Dive into the exotic, lush world of artist Karina Eibatova with this luscious large scale floral wallpaper. The oversize flowers create a dramatic, heady energy to the design, perfectly countering its romantic colours and theme. For lovers of the colour pink, these shades of blush and pastel pink meld together in a hypnotic flower fusion. A pink romantic flower wallpaper such as this is the perfect design for a bedroom – it could create a stunning accent wall behind a bed, without overpowering the room.   
>> See more Flower Obsession Pink Romantic Flower Wallpaper images
Kubla Khan

 pastel pink wallpaper
---
Our Kubla Khan pastel pink wallpaper in blush offers a dose of colour and a relaxing mood for any environment. The pink beautiful Chinoiserie wallpaper features a variety of exotic animals hiding amongst cherry blossoms on a pink background. The subtle distress to the wall adds to the appeal. This subtle vintage effect design can work in many spaces in your home, so why not choose this design as a bathroom wallpaper? Let this pink wallpaper bring a touch of glam to your bathroom interior.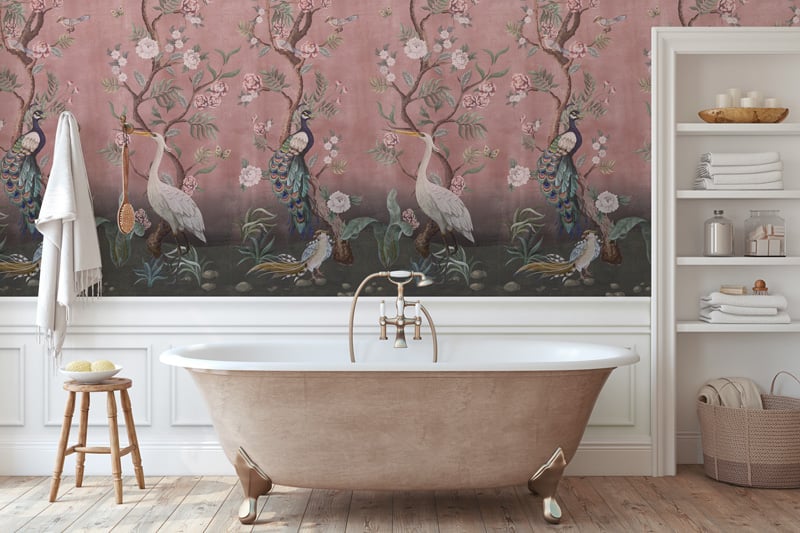 Image credit: Shutterstock/Tr1sha
>> See mor Kubla Khan Pink Beautiful Chinoiserie Wallpaper images
City of Love vintage 

pink wall mural
---
Ever been to the City of Love? Recreate that romantic Parisian feeling in your home with this stunning pink vintage Paris wall mural ! Published in 1910, the original map featured in this wall mural of Central Paris highlights streets and buildings from the last century. The soft peachy pastel pink colours of this design add a nostalgic, vintage feel. Why not choose this wallpaper mural create a focal point in a hallway?  This pink wall mural will make a stunning welcome into your home,  and will transport you to the streets of Paris.  
>> See more City of Love Cream & Pink Vintage Paris Map Wall Mural images
Swan rose pink wallpaper mural
---
Swan rose pink wallpaper mural is the work of London artist Hugh Hamshaw Thomas,  based on a photograph taken on the edge of lake landscaped by Humphry Repton (1752-1818). This stunning pink toile de Jouy wallpaper mural transports us from the modern day into a bucolic scene of English pastoral calm. Perfect as a feature wall in a dining room or living room, this rose pink wallpaper will envelope you in its calm and peaceful scene. 
>> See more Swan Pink Toile De Jouy Wallpaper Mural images
Albus III pink floral wallpaper mural
---
Unashamedly romantic, the Albus III pink wall mural features the signature florals from artist Claire Luxton's Botanica collection. The original artwork was created using photography, mounted on aluminium and acrylic, hand finished with overlying resin. Oversize light pink floral blooms are the star here, displayed in all their detailed glory. Delicate flowers in baby pink are emphasised by the dove grey backdrop. Why not hang this pink wall paper mural in your dining room and coordinate with complimentary pink soft furnishings for a harmonious space? 

Image credit: Shutterstock/PhotographeeEU
>> See more Albus III Pink Elegant Nature Floral Wall Mural images
Elevation blush pink circle wallpaper 
---
We might typically associate pink wallpaper with floral designs but don't forget that pink tones can work equally as well with contemporary designs. Elevation is a simple and charming pink geometric wall mural with crisp circle shapes set against a soft pink background. Created by Argentinian artist Elo, the form of this unusual pink wallpaper mural was created by photographing handcut woodshapes. The half circle blush pink shape pops from the pastel pink background in an almost 3D effect. This pink circle wallpaper design can help create a modern and fresh environment in a home office to help keep you focussed whilst at work. 
>> See more Elevation Pink & Cream Simple Circle Wallpaper images
Cockatoo Stripe baby

 pink wallpaper mural
---
Baby pink is a colour we would often think of for a child's nursery decor.  But why not add a little an element of fun to a kids bedroom with this gorgeous pink and white stripe wall mural! Peeking out from the blush pink stripes is a playful bird, originally handpainted by Finnish artist Outi Virtanen. Different shades of light pink make up the exotic plumage in this cute animal wallpaper. A unique and fun pink children's wallpaper mural to bring joy to any nursery! 
>> See more Cockatoo Stripe Pink & White Kids Bird Stripe Wall Mural images
Neon Bunting pastel pink graffiti

 wall mural
---
Here, pink wallpaper gets a fresh urban upgrade! Created by Lee Herring, Neon Bunting pink wallpaper offers a playful take on the British practice of hanging bunting during summertime gatherings. The pink funky graffiti wall mural uses large amounts of spray paint to create bunting that practically bursts out of a pastel pink background. These modern geometric shapes sit above the gorgeous pink floral meadow at the base of the design creating a statement pink wallpaper design, perfect for a contemporary home. 
>> See more Neon Bunting Pink & White Funky Graffiti Wall Mural images
Takeda Rose pink cherry blossom 

wall mural
---
Unleash your romantic side with this rose pink cherry blossom wallpaper mural. As the branches span the wall, one has the sense of sitting in and amongst the delicate Sakura blossoms. Light cream cherry blossoms and intertwined branches perfectly offset the terracotta pinks of the shabby chic background, creating a pink chinoiserie wall mural that is both decadent and delightful. Bring the beauty and romance of cherry blossoms into your bedroom with this rose pink wallpaper mural design. 
>> See more Takeda Pink Cherry Blossom Wall Mural images
Bird Of Paradise tropical pink 

wallpaper
---
Take a step into the exotic and walk on the wild side with Bird of Paradise wallpaper ! This pink wallpaper design is a thing of beauty composed of gorgeous Bird of Paradise flowers, large monstera leaves, and palm fronds. The pink & green tropical leaf wallpaper features classic calming colours meant to transport you into a world of tropical wonder. Install this pink wallpaper design in a kitchen setting to create a lush tropical backdrop as you cook. 
>> See more Bird of Paradise Pink & Green Tropical Leaf Wallpaper images
So which room in your home needs a pink

 wallpaper?
---
We hope you can see how pink wallpaper can cover the entire scope of shades and colours. For fans of the color pink, it's hard to choose between wallpaper designs with a faded pink background, a brighter pastel pink wall mural, lush pink feathers on a cute bird or some blush flower petals. Choices choices!
Seeing the range of shades that you can choose from does help you find the ideal pink wallpaper design to change things up in one or more rooms of your home. Will you join the pink brigade and discover the perfect pink for your next wallpaper or wall mural?