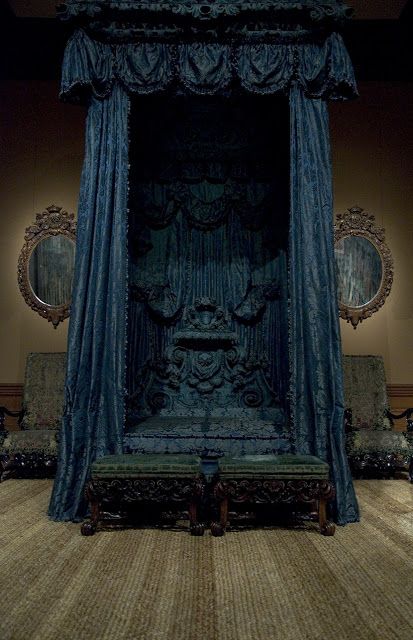 We may be spoilt for choice when it comes to furnishing our homes with luxury fabrics and unique cushions. But things weren't always this way. Our love affair with comfortable and contemporary soft furnishing dates back to Egyptian times, when horsehair-stuffed cushions scattered on top of daybeds and luxury fabrics draped over thrones were the norm. Find out more about the history of upholstery and furnishing fabric and how things have changed over the years.
Medieval upholstery
After the dark ages were over, people could stop worrying if their houses were going to be burnt down, and began to focus on what was inside them. Standards of living began to improve and thoughts turned to comfort. Cushions could be added to solid oak chairs to offer a little comfort, but there were no cushions on the backs of chairs – people had to make do with leaning against tapestries hung on the walls. Italy began making the finest silk, which quickly spread to Britain. Weavers made wall hangings, bed drapes and cushions, reserved only for the very wealthy.
Elizabethan era
In the Elizabethan Era levels of comfort significantly increased. Heavy curtains were draped over bedheads and around four poster beds to prevent drafts. Mantelpiece drapes were also very popular, and all types of draperies became more and more elaborate – even for windows. Tall windows were framed with window headings, deep swags and tails. These were often heavily trimmed, surrounded by intricate wooden cornices.
To accomodate large Elizabethan skirts, the farthingale chair was introduced  – a chair without arms with a piece of leather stretched across the back and nailed on each side. Elizabethan upholstering materials included: leather, brocade or embroidered cloth, and velvet trimmed with a heavy fringe. Stuffing could be anything from sawdust, grass or feathers, or deer, goat and horse hair.
Sofas still didn't exist before now – seats for more than one person were usually benches that could be pushed against the wall.
Renaissance style
Believe it or not, upholstery took a while to catch on – anything slightly comfortable was often disregarded and was felt to be effeminate. Jacobean furniture was still similar to Elizabethan, with a few adjustments along the way. Furniture was still made from oak, and blocky due to the carpenters using carpentry tools to make it.
In Spain during the Renaissance beautiful, tooled decorative leather began to gain in popularity. Also popular were Turkish divans – low sofas completely covered in stuffed cushions, and colourful tapestries covering small chairs.
Decorative arts
With Charles II on the throne, the Puritan regime ended, and the decorative arts began to flourish in England. People were getting used to the comfort of upholstered furniture, and the first fully upholstered chair was built in 1705. This chair was referred to as a "sleeping chayre" – you could rest your head on either the sides or the back. Daybeds grew in popularity and custom cushions were everywhere.
Tapestry and fabric factories began to spring up in London and Paris, and the upholstery business began to boom.
Silk damask, wool moreen, elaborate embroidery were used more and more in upholstery. Cushions were made of horsehair with linen lining and down. Beds were one of the most upholstered pieces in the house: bedsteads were totally covered in soft fabrics such as velvet.
The age of the designer
By now, upholstery was very much integrated into the furniture-making process, and as comfort improved, the drop-in seat was invented. This meant that the seat could be upholstered in any fabric. Designers selected which colours and fabrics to use, which set the trends and colour palettes for the season. The Age of The Designer had begun.
Louis XVI's chairs were upholstered in pastel blues, pinks, and yellows. Thomas Chippendale's camelback sofas were some of the first to be completely upholstered, except for exposed legs. George Hepplewhite published a book to offer guidance in interior design, colour palettes, and how to arrange a room. His seats were overstuffed, finished with brass nailheads, and covered in fine haircloths and silk.
Victorian opulence
Victorian opulence reigned supreme in the 19th Century. Two major innovations brought about modern upholstery. The first was the steam powered engine, which provided cheap power to machine looms so that machine woven fabrics could be mass produced. The second was the steel coil spring, which revoultionised seat cushions.
Bold, Rococco revival styles were popular – rich, jewel-coloured upholstery such as velvet, was paired with gilded, painted, or black lacquer frames. Shiny silks, leather and brocades featured button tufting. Cornucopia-armed sofas often featured matching, upholstered round cushions on either end. Fringing and tassels were used with abandon.
20th century style
Styles from Mission to Art Deco and Mid Century Modern were born. The invention of Nylon was a durable alternative to silk – resistant to normal wear and tear that affected more traditional upholstery. Other inventions, from bent steel to fiberglass to molded foam cores, revolutionised furniture design and brought about many of the modern designs in furniture we still see today.
As innovation in technology drives innovation, upholstery and furnishing fabric is both beautiful and functional. Check out our full range of designer fabrics here.
Discover our full range of wallpaper, fabric and cushions.
5 classic chairs you have to sit in once