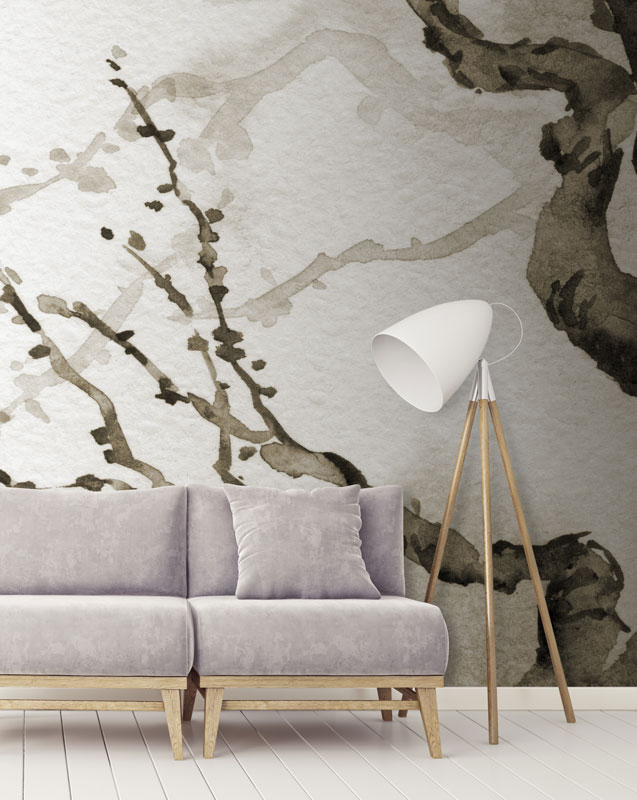 Choosing a minimalist wallpaper is the perfect way to introduce the serene and simplistic Japandi style into your home. As a combination of the name 'Japan' and 'Scandi', this hot trend combines the clean minimalist lines of Scandinavian design with elements of Oriental culture. Think honest natural materials like wood and rattan blended with Japanese influences.  The trend for Japandi style interiors has grown in popularity as we all look for interiors that promote a feeling of calm and serenity.  
Japandi wallpaper style can encompass many different looks – from soft watercolours, floral Sakura blooms to more abstract Japanese designs.  Read on to find how to style a minimalist wallpaper to get the Japandi look into your home…
Takeda cherry blossom wall mural
---
Is there anything more emblematic of Japanese culture is the traditional Sakura blossom? Create a corner of calm in your home and sit under the cherry blossom flowers for a moment of tranquility.   Takeda is a calming and romantic cream and white cherry blossom wallpaper mural, that brings will a touch of winter peace into the home. Branches and white blossoms intertwine to create a beautiful chinoiserie wall mural that is particularly suited to the bedroom or living room. Combine this Sakura wallpaper with natural wood flooring and a muted colour scheme to create the Japandi aesthetic in your home. 
>> See more Takeda Cream & White Cherry Blossom Wallpaper Mural images
In The Glade forest wallpaper mural
---
In the Glade wall mural is a watercolour wall covering that evokes a Japandi feel. This brown & cream stag forest wall mural paints a picture of a foggy forest where a single stag wanders around among the trees. Its colours blend together in a zen watercolour style, softly melding from one to the next.  Get a cohesive Japandi look by combining this minimalist wallpaper mural with natural elements in your room – wooden floor boards and vintage wooden furniture perfectly draw the eye towards the tranquil forest glade.   
>> See more In The Glade Brown & Cream Stag Forest Wall Mural images
Ocean Spray Japanese wave wallpaper 
---
Recreate the classic Japanese wave motif with our Japandi style wave wall paper.  Ocean Spray wallpaper can easily bring a touch of Japanese style to many rooms in a house, from the bedroom through to the kitchen.  This green & white Japanese wave wallpaper showcases a classic Japanese wave motif that is softened into elegance using light pastel colours. This minimalist wallpaper has a design that is bold enough to create a single accent wall within a room, but is restrained enough to be used on all four walls of a room at the same time.  Styled here with distressed natural wood furniture in complementary colours to complete the Japandi look.
>> See more Japanese Wave Green & White Japanese Wave Wallpaper images
Ink Blossoms Japanese minimalist wall mural
---
Taking inspiration from the traditional Japanese style of calligraphy writing (called 'Shodo'), this Japanese tree wall mural was originally hand-painted using an eastern ink brush style. We can imagine the artist at work, watching the brush stokes cover the page, and the ink blurring as it touches the paper. This minimalist wallpaper features the branches of the tree,  covered with the first touch of the spring's blossoms. This living room represent the classic Japandi interior design – Scandinavian touches of plain white flooring and a minimalist lamp combine with classic Japanese style of low furniture.  With a backdrop of the minimalist tree wallpaper, the Japandi look is complete. 
>> See more Ink Blossoms Brown & Cream Japanese Tree Wall Mural images
Vigor minimalist wallpaper
---
This interior showcases stunning Japandi minimalism. Classic pared back furnishings using natural material including reeds, wood and distressed pottery sit discreetly besides the beautiful minimalist wallpaper. Inspired by watching snow melt as winter was ending, artist Aoi Yoshizawa saw the meltwater gaining strength as time went on. Vigor in sand is a cream & white elegant painted stripe wallpaper that uses intense brushwork lines to show the stream and its gaining strength as spring comes closer. The hand-painted and dramatic brushwork lines express this energetic stream and its journey towards the vigor of spring days. The result is traditional Japandi style minimalist wallpaper updated for the 21st century.
>> See more Vigor Cream & White Elegant Painted Stripe Wallpaper images
Bamboo abstract Japandi wall mural
---
Create the Japandi aesthetic in a bedroom by combining a minimalist wallpaper with natural rattan furnishings. Our Bamboo wall mural can't fail to spark the imagination and create a zen space for relaxation. This green abstract bamboo wall mural is composed of many greens and browns to create the illusion of a jungle covered in fog. Combine this with the natural rattan elements and an earth toned rug for a cohesive Japandi interior.  A muted wall mural design such as this that works well in a bedroom environment but can equally create the Japandi style in a living room, children's bedrooms or even a kitchen!

Image credit:Shutterstock/Jafara
>> See more Bamboo Green Abstract Bamboo Wall Mural images
Bed Of Reeds minimalist wallpaper
---
In this living room, natural textures are key to creating a stunning Japandi interior. Our Bed of Reeds minimalist wallpaper was created by artist Out Mustonen. To create this stunning wallpaper, Mustonen took strips of delicate batiste cloth, then soaked them in industrial latex paint and left them to dry. The interplay of these two materials creates the luxurious texture of Bed of Reeds, a gorgeous example of a Japandi style wallpaper. The natural colour palette of this cream shabby chic stripe wallpaper blends perfectly with the Scandi style rattan and jute soft furnishings.  The addition of a vase of Sakura blossom completes the zen Japandi style room.  
>> See more Bed Of Reeds Cream Shabby Chic Stripe Wallpaper images
Japanese Anemone abstract wall mural
---
Take the Japandi style to the max and create a feature wall of stunning Japanese blooms. Showcasing brilliant flowers that seem to be out of a photograph, Japanese Anemone is a wall mural that offers something unique for a modern space. The brown Japanese flower wall mural removes bright colours in favour of browns and whites that light up a room and create a sense of serenity. It has a vintage feel that complements contemporary décor to round out a space. Tie in minimalist Scandinavian wood furniture for that Japandi feel. 

Image credit:Shutterstock/Jafara
>> See more Japanese Anemone Brown Japanese Flower Wall Mural images
Styling minimalist wallpaper into the Japandi look.
---
So it's easy to create a Japandi interior with a minimalist wallpaper – the hard part is choosing which Japanese wallpaper suits you and your space! Whether you choose floral Sakura blooms, a forest scene or something more abstract, the essential is that the wallpaper creates a sense of calm within your room.  The combination of a minimalist wallpaper and a range of natural materials for your furniture and soft furnishings cannot fail to give you that zen Japandi environment.