Choosing an office wallpaper is an important decision as more people than ever now work from home. Some divide their time between home and an office, while others have permanently switched. Despite this, not everyone has a home office. Some may need to convert a spare room or garden room into an office.
If that sounds familiar, you may be faced with the task of redecorating before you can move in your computer equipment and other items. Fortunately, this is easier to do than you'd think, thanks to our impressive range of home office wallpaper you can choose from. There is no need for your office to be an afterthought, as you'll see here in our WFH wallpaper guide!
Creating your workspace with the perfect office wallpaper
---
It's easy to think the most crucial element of your home office is the equipment you'll use in it. You'll likely need a computer and associated paraphernalia, along with a desk and comfortable chair. You may need other supplies depending on the type of work you do. However, you're going to be using the room for several hours a day, so the surroundings you are working in are equally as important.
Abstract and geometric designs work wonderfully well as in a home office. The abstract nature of this type of home office wallpaper ensures it is not a distraction. If you chose an office wallpaper design with birds, flowers, or other specific elements, you may find yourself looking at the design when you should be working! If that is the case, it could better to choose office wallpaper that doesn't show anything specific in the design.

Image credit: Shutterstock/FollowtheFlow
>> See more Bunker Grey & Brown Home Office Industrial Wallpaper Mural images
Choose a WFH office wallpaper that keeps you motivated
---
Achieving a professional tone is also important. If you're working from home, you're not likely to have any clients visiting, but you should still set the mood in your office. That's why choosing office wallpaper is so important. You can also claim the freshly redecorated room as your own rather than keeping the feel of a spare room. If you need it as a spare room, you can always include a sofa bed in there for occasions when it is needed. That way, you can still maximize the use of the space without losing any functionality. It also gives you somewhere else to sit for a change of look or to enjoy a quick coffee break while pondering over your next task.
It's a sensible idea to consider the size of the room you're using as your home office too. A larger room can use either light or dark wallpaper, while a small box room is going to look smaller still if you go for a dark design. Keeping things light with a simple geometric wallpaper pattern may be more suitable. That said, think about the light source and how much sun the room gets during the day. You can get away with darker shades if the room receives plenty of light throughout your working hours. You can, of course, add spotlights or a desk lamp to help if you really want a darker office wallpaper – perhaps something with an abstract design that flows from one shade to the next.
Some geometric wall mural designs have a 3D element involved too. While they're not textured, the pattern makes it appear as if the design is coming out from the wall. That type of wallpaper design doesn't always work in other rooms in the home, but you can afford to be a little daring with office wallpaper. Make working from home something to look forward to if you can.
>> See more Cherry Blossom Blue Home Office Wallpaper images
Choose a home office wallpaper that makes the space your own
---
This is your chance to decorate your home office with an office wallpaper design you may not think of using elsewhere in your home. Be bold – this is one room where you can really let your character show. If you want somewhere cozy to go to each day, choosing an office wallpaper that is far removed from anything else you'd choose gives you that important divide between work and home life. You can close the door on your home office at the end of the day, so make it different in there. Choose something dynamic and bold. Think about textured or patinated designs – something off the wall to go on the wall, perhaps?
If you're using computer equipment and other similar items during the day, as many WFH people do, a modern office wallpaper is perfect to support this. Of course, while geometric designs are ideal in this scenario, you can also go for something abstract that uses several colors and shades in the same paper. Be inspired – keep an open mind to think about office wallpaper possibilities you may ignore when decorating another room. It could lead to a delightful discovery for your workspace.

Image credit: Shutterstock/Jafara
>> See more Albion Grey & Silver Office Wall Mural images
Selecting the right office wallpaper to get the perfect work/life balance
---
Keeping clutter to the minimum in your home office helps make it more inviting too. This can also make it look stark, though. The antidote is to go for a more dynamic wallpaper that catches the eye, giving the room character and adding a professional yet appealing tone.
Ideally, you want your home office space to feel and look different from all other rooms in your home. Choosing a modern wall mural or office wallpaper is the perfect way to achieve this aim. It shouldn't feel as if you're in another part of your home. Selecting a different home office wallpaper design helps to create that clear divide you are looking for.

Image credit: Shutterstock/Lilsagh
>> See more Tempestas Pastel Cloud Office Wall Mural images
We've looked at design ideas as to how you can help maximise your work environment –  read on to  find your perfect WFH wallpaper!
Jupiter office wallpaper mural
---
If you want to create a home office workspace that has an industrial feel, an abstract office wallpaper mural is an excellent way to add texture and elevate the functional mood to something more artistic.  This office wallpaper design, created by artist Jessica Wilde, is an excellent choice for this kind of home office space, with its incredible detailing and delicate wash of texture and colour. 
Complete your office design scheme with pared back industrial style furnishings and let this abstract office wallpaper inspire you throughout your day at work.

Image credit: Shutterstock/FollowtheFlow
>> See more Jupiter Green & Brown Abstract Patinated Wall Mural images
Persepolis metallic home office wall mural
---
A Scandinavian style office wallpaper is a great choice office decor idea: fresh and functional, with a pleasing sense of instant organisation.  But Scandinavian wallpaper no longer means a pure white space.
Freshen up your work from home space with this office wallpaper featuring honeycomb lines.  This geometric wallpaper features a honeycomb trellis which balances neatly against the simple lines of the Scandinavian furniture, whilst the gold metallic detailing complements the birch wood furnishings.  Use tropical plants that soften the formal lines of this office wallpaper mural and get creative in your inspiring WFH space.

Image credit: Shutterstock/NewAfrica
>> See more Persepolis  Green & Gold Geometric Wall Mural images
Keziah Night home office wallpaper 
---
Give your work space a fresh modern twist with this geometric office wallpaper. This modern home office wallpaper is inspired by vintage tiles which have been reimagined into a contemporary style by combining a light grey background with darker grey geometric shapes playing on top.
Such a pared down contemporary office wallpaper gives space in a room to allow creativity yet at the same time inspires a methodical approach to work. Mirror this aesthetic in your home office decor to create the ultimate modern home office.

Image credit: Shutterstock/FollowtheFlow
>> See more Keziah Nights Grey Modern Geometric Designer Wallpaper images
Elemental home office wall mural
---
Our Elemental office wallpaper goes back to nature: its inspiration comes from the marks that nature leaves on the planet, whether the force of a waterfall or the drag of a receding wave on a shingle beach. Each line of this striped office wallpaper mural has been distressed by hand, creating a shimmering effect when set against the gold metallic background. 
The lines also reflect the wire detailing of the office chair, creating a conversation between the workspace and the wall.  Install this office wallpaper to create a thoughtful, serene workspace, perfect for having a productive day's work.

Image credit: Shutterstock/DariuszJarzabek
>> See more Elemental Green & Gold Textured Stripe Wall Mural images
Casablanca

 WFH office wallpaper 
---
Energise your workspace by introducing an office wallpaper with a vibrant pattern.  Your work from home office could be the most important room in your home – we spend long hours at a desk working. 
So maximize your home office decor by creating an energizing accent wall that will keep you motivated and productive. The bold chevron pattern of this home office wallpaper sits perfectly above more restrained wood panelling and furnishings.  Keep focus and maximize your productivity with this office wallpaper design.

Image credit: Shutterstock/Rakic
>> See more Casablanca Blue & Grey Chevron Pattern Wallpaper images
Bleinheim home office 

wall mural
---
The classic coastal look is perfect office wallpaper design.  It's fresh, natural and, even if your holidays are some way off, you get a little flavour of beach life.  Home office design should always promote well being and productivity so choose this office wallpaper to bring that zen beach vibe into your WFH space. 
The coastal look means simplicity, so this home office wallpaper is a great choice: its wide stripes add airiness and space, whilst the silver finish shimmers like a calm sea. Benefit from the refreshing coastal feel that this office wallpaper brings your workspace.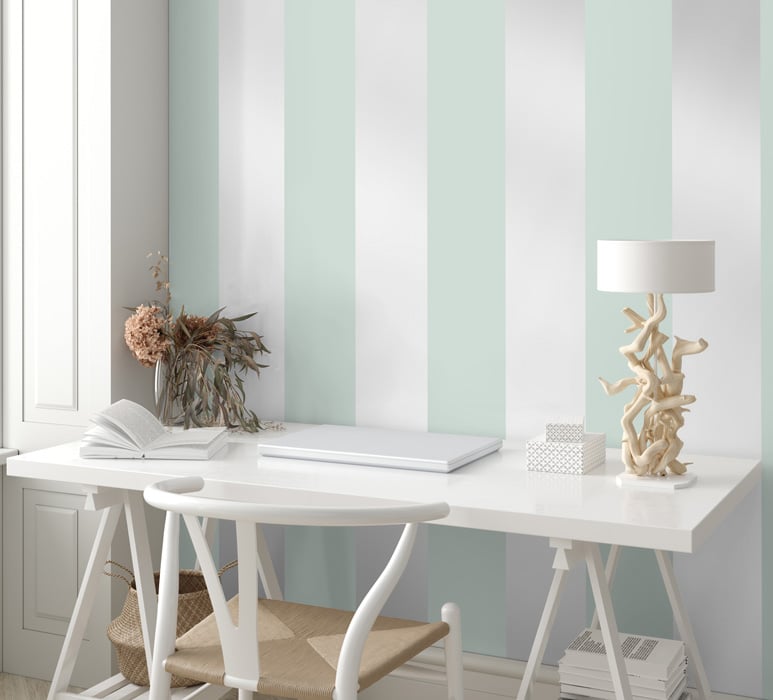 Image credit: Shutterstock/Jafara
>> See more Bleinheim Green & Silver Modern Stripe Wall Mural images
So what does your favorite home office 

wallpaper look like? 
---
If you're choosing an office wallpaper as you are switching to working from home, whether by choice or circumstances, it's easy to focus on the practicalities. Yet you should also make your chosen space one you'll enjoy visiting each day. Even if you don't have a dedicated room to use, you could still redecorate a section of another room to use for this purpose. An office wallpaper mural would work well for this, used on just one wall (or part of a wall) to give you the divide you're searching for.
Think about your home office wallpaper as the beginning of your WFH lifestyle. It is one of the best ways to create that divide between work and play each day.